In ramping up for our first Canadian Front End of Innovation event, FEI Toronto taking place on September 29 - October 1, 2014, in Ontario, I came across this phenomenal video on YouTube posted last summer by the folks at TrendHunter promoting their Editorial/Social Media internships or what they refer to as TrendHunter Academy.
As you may recall, the CEO & Chief Trend Hunter at TrendHunter.com and Author of the book Exploiting Chaos, and the forthcoming one, Better & Faster, Jeremy Gutsche, will be addressing FEI Toronto, with a keynote on the six secrets patterns of opportunity that can enable your research team to more quickly out-innovate, out-adapt and outsmart their competitors, and then will personally take us inside the Trendhunter offices to share more on how they spot and track trends.
The Quest for Cool
What struck me about this video, is how very collaborative and cool their culture is expressed through this recruitment campaign.The video showcases their central hub, where writers and editors are scouring the internet daily for the odd, cool, the outliers, and extremely new and then checking in for editorial meetings about 3xs a day - yes, 3 times a day!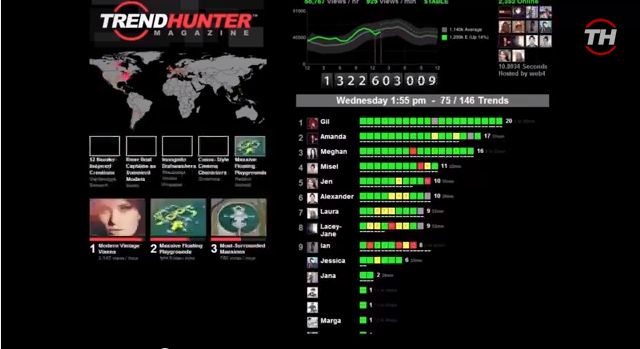 Trendhunter Projected Dashboard Gamifies Work
But the most interesting thing that stood out to me was their real time, projected dashboard, an employee leader-board that tracks their trend hunting times, writing times, articles per hour per day and rates them amongst the team so that they can track their progress and immediately see the impact and influence of their work. It is central to the culture at TrendHunter, and demonstrates the importance of critical analysis, connecting the dots, writing well and writing fast in internet culture.
At Trendhunter, the employees play as hard as they work as a team, partaking in weekly Friday lunches to discuss how the week went as well as monthly fun days, participating in activities such as citywide scavenger hunts, Sushi making classes, jetboating and brewery tours.
It is amazingly refreshing to see a company that keeps true to its mission of empowering their community, crowdsourcing ideas and harnessing trends, fueling their employee culture and kickstarting careers in such a fun way.
Things they look for in their interns and future employees? Open mindedness, creativity, enthusiasm, agile minds who can spot patterns in the real world and are super charged writers, fluent in social media and viralness.
You can take a look here or join us as we explore innovation in Canada:
ABOUT THE AUTHOR
Formerly a senior copy editor at Thomson Reuters, a research editor at AOL,  and a senior web publicist at Hachette Book Group, Valerie M. Russo is editor at large of The Front End of Innovation Blog, The Market Research Event Blog, The World Future Trends Tumblr, the Digital Impact Blog, and also blogs at Literanista.net. She is the innovation lead and senior social media strategist for the Marketing and Business Strategy Division of the Institute for International Research, an Informa LLC., and her poetry was published in Regrets Only on sale at the MOMA Gift Shop. Her background is in Anthropology and English Literature. You can reach her at vrusso@iirusa.com or @Literanista.