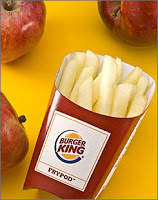 In Miami, overlooking the Miami International Airport, the Burger King headquarters stand. On the ninth floor, the product innovation team meets to find new ways to present traditional foods in new way for the Burger King menu. The Herald Tribune of Sarasota, Florida recently took a look at what goes into the innovation at Burger King. Here, here is a cafeteria and a test kitchen where they 'ideate'. They use fast food marketing terms to communicate such as LTO -- Limited-Time Only, SOS -- Speed Of Service, and HFFU -- Heavy Fast Food User. They find catch slogans that will pull in the customer and sauces that will set them apart from other food chains. They cater their food creations to different region, states and countries.
Jon Schauflerberger is the Senior Vice President at Burger King. Before taking starting at Burger King four years ago, he worked in various positions relating to Taco Bell and Arby's. He looks at Burger King's products as off center and edgy.
They have to find a way to appeal to both in-store customers and those who come through the drive through, which accounts for 70% of their business. Some of the newest things to come from Burger King: apple fries (apples cut in the shape of french fries) and burger shots (mini burgers served in pairs). They continue to find new ways to draw customers in, and the Whopper is their key product. They focus on customization of their burgers. The Whopper alone can come in 221,184 ways.