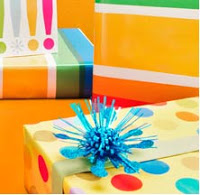 Hallmark has discovered that people prefere self-wrapped presents are often better to receive than a pre-wrapped gift. But what about those people who have a hard time perfectly wrapping that special gift?
Their latest innovation is adhesive gift wrap. The roll of wrapping paper is like any other but with the added benefit of an adhesive underside, so no tape is needed (Much like a sticky note). Another benefit besides no need of tape is that it will now be easier to wrap gifts that are not in the shape of a box (for your bowling ball or fishing pole!).
The paper works by attaching itself firmly to the outside of the present, yet when it is unwrapped, there is no residue left on the gift. This wrapping paper is available only at Hallmark Stores.
Sources: PR News Wire, Oh Gizmo!