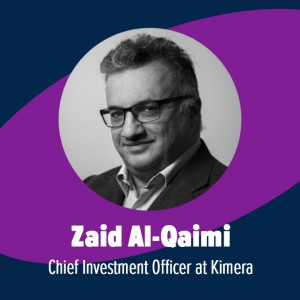 What kind of strategies do Family Offices operate to diversify their portfolio across different regions and economies, and what factors do they base their investment decisions on? We hear from Zaid Al-Qaimi, Chief Investment Officer at Kimera, in our Q&A interview.
What is it like to be a CIO? Tell us a little about your role at Kimera and your key business priorities.
I set up the family office in January 2017 with a view to operating a global mandate across all major asset classes. To ensure the sustainability of this mandate, the target was to establish an institutional standard infrastructure. The support of the family principal was critical to achieving this, as he agreed with the vision of implementing a comprehensive set-up from the beginning, as opposed to the more cautious approach of incremental, step by step development of the infrastructure.
I was lucky to be able to recruit a small number of very talented individuals that helped me establish what we have today: operating with one global custodian, an independent trustee, legal and tax advisors and the back-to-front Bloomberg solution to support everything we do, from investment research to execution to risk management.
My key priority today is to leverage our setup to continue to optimise returns. We need to remain nimble and efficient without sacrificing our high standards of diligence while steering clear of bureaucratic, non-value adding processes.
How is Kimera building and diversifying its portfolio in the Middle East and beyond?
Actually, we took an early decision not to invest in the region for the purpose of diversifying away from the main economies the operating business is exposed to.
When establishing our investment strategy and asset allocation at the onset, we relied on our knowledge, supported by extensive external research, of the clear, ongoing trend in the industry (since early 2000s) towards continuously increasing allocations to Alternatives, as these have historically generated higher returns than liquids and are expected to continue to do so. We found this applied to all the main investor groups, from Sovereign Wealth Funds and University Endowments to Pension Plans.
Accordingly, we have a high allocation to Alternatives, even though we observed a diverse spectrum of strategies that had been adopted by Family Offices of different sizes. In the region, there was historically more focus on real estate investments, predominantly in the local markets. Over the last several years, we have witnessed the trend of increased interest in international markets and other asset classes, namely private equity and venture capital.
The key to building a well-diversified portfolio lies in the ability to maintaining a healthy pipeline of investment opportunities. We have successfully achieved this by traveling extensively to continuously expand our global network and maintain ongoing presence in many markets. This has resulted in an extensive network of relationships that regularly reaches out to us.
What are some of the key challenges in growing and maintaining a diverse investment portfolio?
There are several challenges we must deal with to maintain a performing, diversified portfolio.
From an investment perspective, we find a greater need to be cognisant of the increased short-term volatility arising from the current environment – regional geopolitical factors, ongoing global trade negotiations, populism and the stage of the current cycle combine to make the landscape more difficult to navigate. Here, it is important to stick to our principles of underwriting positions based on strong long-term fundamentals.
Logistically, it is not easy maintaining such a solid global network from Dubai, but we are determined to do so as generating alpha would otherwise be more difficult. As such, we utilise our network for both originating ideas and calling on experts to validate opportunities
A good challenge to have is that we regularly find that we are victims of our own success, as the flipside of maintaining a healthy pipeline of opportunities means there are several attractive opportunities, we have had to pass on purely for asset allocation purposes. Only the high conviction ideas are approved.
What kind of investment opportunities are particularly attractive to you?
We internally manage our own equity and bond portfolios while conducting the required diligence to execute direct and fund investments into private equity and venture capital across multiple continents. Where we can add value, we take board seats, make commercial introductions, and introduce new investors where extra funding is required.
We are agnostic and remain open to new ideas to ensure nothing slips between the cracks. We are focused on ensuring we understand the thesis behind any opportunity we consider in order to achieve the high level of conviction we require.
We like to invest in areas where we see significant upside, and have found this can take many forms, from looking at uncrowded sectors and geographies to excellent companies that are capital constrained or great founders that need help to successfully exploit the commercial potential of their business.
What are some of the key skills that CIOs today must have?
Just as important as having years of investment experience in the relevant asset class is the ability to foster and sustain good relationships, both internally and externally.
Internally, I have aligned team members by unifying incentives to the performance of the portfolio and not to individual asset classes. Furthermore, as we are a small team, assessment of the cultural fit was a key part of the recruitment process. Externally, we are constantly developing new relationships. Through being collaborative and open to sharing our experience and knowledge, we have established strong ties with many managers and companies.
Finally, a disciplined approach is key as it cuts across everything we do, from asset allocation to investment selection and execution through to risk management and performance monitoring.
---
Under the spotlight: Zaid Al-Qaimi 
Zaid Al-Qaimi is the Chief Investment Officer at Kimera. Since January 2017, Zaid has successfully built up the team and infrastructure required to operate a global mandate across all asset classes. Leveraging a global network, Kimera maintains a healthy pipeline of opportunities and invests across the life cycle of companies, from late seed stage to public equity. Private investments are made on both a direct basis and through funds whilst the public equity and bonds portfolios are managed internally. He has successfully established a global network of contacts across the investment ecosystem, which has helped Kimera secure access to premium transactions.