So-called "mHealth" is one of the most interesting sectors of modern healthcare, and holds the possibility of reshaping patient-outcome monitoring and preventative practices. At the heart of mHealth is the adoption of consumer health and fitness-tracking devices, and their integration into the medical industry. If healthcare providers can convince a majority of their patients to use and share data from tracking devices, they could analyze trends in their patient population and provide individuals with tailored healthcare advice.
To help providers find the best strategies for engaging their patients and encouraging health tracking, TechnologyAdvice conducted a nationwide survey of US adults, looking at these issues. 419 adults, who reported that they did not currently track their diet, weight, or exercise using a fitness tracker or smartphone app, were surveyed about their reasons for not tracking and what incentives might encourage them to do so.
Based on the results, there are large opportunities for both healthcare providers and health insurance companies to promote widespread fitness tracking.
One potential option would be for physicians to provide wearable devices to their patients, free of charge. When survey respondents were asked whether they would use a physician-provided fitness tracker, 48.2 percent said they would.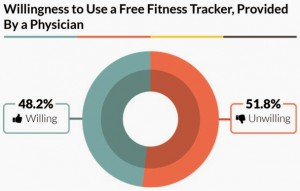 That means physicians could get nearly half of their non-tracking patients to start using such devices, simply by providing them. Even if such a program is financially impractical, it's likely that providing the devices at reduced costs (subsidizing them) would be effective as well.
Health insurance companies could also play a key role in encouraging health and fitness tracking. While just under half of respondents said they would use a free fitness tracker, 57.1 percent said they would be more likely (or much more likely) to adopt digital fitness tracking if they could receive lower premiums on their health insurance.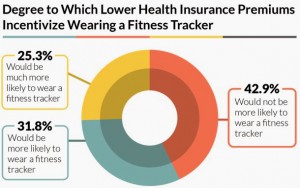 This exact strategy is being tested by Humana, an insurance company that recently announced a data-sharing partnership with Apple through their HealthKit app. Humana's Vitality program ranks users based on their fitness data, and reports the information back to employers who can then offer the employees discounts on their monthly healthcare costs.
Given the clear interest among even non-tracking adults, and the success of similar self-monitoring programs for car insurance, it seems likely that additional carriers will begin to implement such initiatives. Based on the above responses, the impact on the health and fitness tracking market will be significant.
For maximum impact, healthcare providers and health insurance companies should partner together to promote self-tracking both in physician's offices and during insurance enrollment. A combined effort could successfully convince over half of currently non-tracking adults to monitor such information. The resulting data would be a treasure trove for patient outcome research and preventative best practices.
Author Bio:
Cameron Graham is the Managing Editor at TechnologyAdvice, where he oversees original research and content strategy. He writes about healthcare IT, and emerging tech trends. Connect with him on LinkedIn.
(Originally published on October 14, 2014)