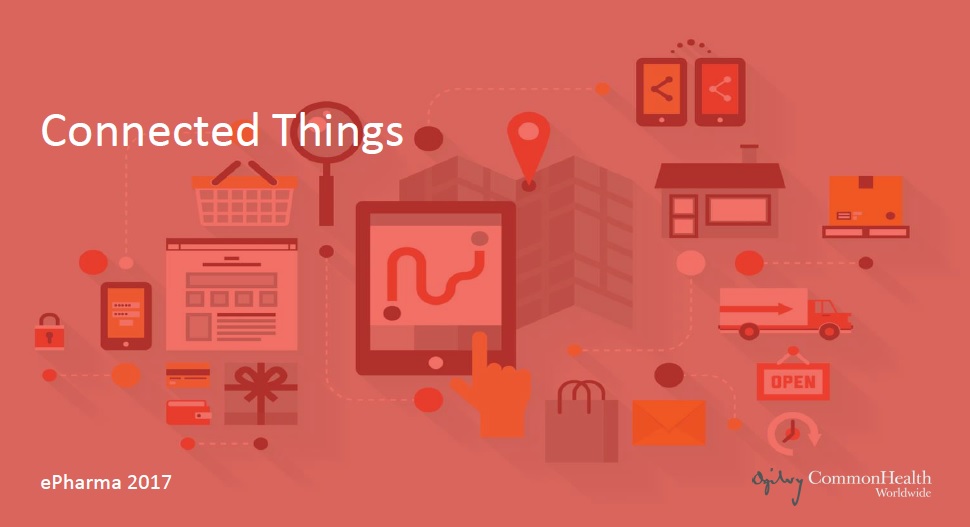 Most people are connected to some form of digital device through-out their day. Whether it's their mobile phone, laptops, television or any other tech and mechanical devices we manipulate and force to work for us, even while we sleep.
For this reason, there's value in connectivity says Chief Digital Officer, Ritesh Patel, of Ogilvy CommonHealth World Wide.
According to The Live Play Better Report, per PSFK Labs, "Digital technologies hold the promise of baking optimization into nearly every aspect of our lives, streamlining the ways we now connect to the world around us and fundamentally changing how we live, work and play. Efficiencies aside, this constant connectivity has also ushered in its own unique set of complications and challenges, raising an entirely new set of questions around how we define trust, privacy, happiness and attention."
Which brings us to the "Internet of Things" (IoT). According to the same report, presented by Pael during the March 2017 ePharma conference, "the IoT represents the next phase in the evolution of integrated healthcare."
The concern, however, may lie in the disruptiveness that typically occurs with the use of technology.
According to research conducted by Economist Intelligence Unit (EIT), however, things look promising.
"37% of global tech executives from the healthcare industry are prepared to manage disruptions wrought by the IoT."
Patel notes that the mobile phone is the first IoT device that enhances connectivity because of its ability to bring computing power to immobile objects. It's also the reason healthcare is witnessing accelerated disruption.
Though mobile has enhances patient-to-health care provider (HCP) and HCP-to-HCP connectivity, its also enabled much of the disruption in the healthcare industry.
But despite the concern of connectivity disruption, Ritesh had this to say during our one-on-one sit down at the annual ePharma.
"I think the Internet of Things will truly change how we deliver care, and I think it's going to come in three areas. One is around the data and the data that the devices are generating that gives the physicians or the nurses the ability to make decisions on an informed perspective in real time, as oppose to, somebody suffering from something, chart notes are written, chart is put up somewhere, the doctor makes the rounds and they get to you 30 minutes from when they were supposed to…all of those things. Those all go away."
Watch Patel's full sit-down interview here to learn more on what he had to say about connectivity, digital disruption and their impact on the healthcare industry.