Women are NOT Robots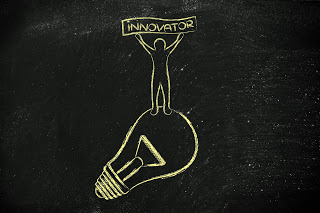 That's the story that Pepsi's design strategist Erica Eden
will be speaking on at FEI 2017. She'll be joined by an all-star roster of
female innovators covering everything from internal disruption, to scaling up
excellence, to the journey into connected devices.
FEI: Front End of Innovation brings YOU
into the full innovation process - from ideation through to commercialization -
to provide you with the inspiration and innovation approaches you need to
become an effective innovation leader. Download the 2017 program: https://goo.gl/78fNCU
In honor of Women's History Month, the FEI team is happy to
share a spotlight on these women driving innovation forward at FEI 2017:
'        
A 130 Year Old Startup? Reinventing an Iconic
Brand: Helene Rutledge, Chief Innovation Officer, New Avon
'        
Disrupt or Be Disrupted: Linda Bernardi, Former
CIO for IoT, Cloud, Cognitive, IBM
'        
The Distributed Innovation Economy: Lauren van
Heerden, Chief Innovation Officer, Brookstone
'        
Confessions of a former CIO: Denise Fletcher,
former Chief Innovation Officer, Payer & Pharma, Xerox
'        
Internal Disruption: Anne Marie Kilgallon, Vice
President, Innovation, AARP
'        
Scaling Up Excellence: Evelyn Huang, VP of
Design Thinking and Strategy, Capital One
'        
Help Us Beat Cancer Sooner: Zoe Regent, Head of
Innovation, Cancer.org
'        
Achieving Real Impact - and Communicating It:
Mona Vernon, Vice President, Thomson Reuters Labs
'        
Inspiring Innovation from a Deeper Level: Diana
Gabbard & Theresa Acheson, Director of Consumer Insights, US Cellular
'        
Unleashing Innovation through Corporate
Activism: Celine Schillnger, Head, Quality Innovation & Engagement, Sanofi
Pasteur
'        
Betterment, The Future of Retail & Maslow:
Lindsay Angelo, Head of Strategy & Innovation, Lululemon
'        
The Journey into Connected Appliances and the
IoT: Rachael Schwartz, General Manager, Keurig Connect, Senior Director,
Innovation, Keurig Green Mountain
'        
The Hershey Advanced Technology Lab: Lina Yang,
Futurist, Director, Advanced Technology Lab, The Hershey Company
'        
Igniting Sprint: Practical Hacks Corporates Must
Adopt: Laura Bissmeyer, Director of Global Source to Pay Operations, Corning
'        
Sprinting in the Face of Uncertainty: Kristen Aune,
Director of Strategy & Innovation, General Mills
'        
Creating Highly Effective Innovation Leaders:
Karen Tilsta, Co-Founder, Florida Hospital Innovation Lab, Co-Founder, Orlando
Magic Innovation Lab
Read our latest interview with powerful woman Karen Tilstra,
PhD and co-founder & inventor at Florida Hospital Innovation Lab (FHIL):
http://bit.ly/2mIwpdT
Ready to Join this List of Women Innovators? Use our blog
discount code FEI17BL for $100 off. Book Your FEI Ticket:
https://goo.gl/78fNCU
We hope to see you in Boston!
Cheers,
The FEI Team
@fei_innovation
#FEInnovation
P.S. Don't forget to subscribe to our insights newsletter
Destination Innovation: http://bit.ly/2jUfUdb. Destination Innovation is our
monthly newsletter featuring our best innovation content for the month. Each
month, take a few moments to sip your morning coffee while you read a
thoughtful article on a new trend, watch an interview with an influential
innovation leader, or an in-depth talk by a top changemaker.