Research shows that Innovation Performance is dependent on not just the innovation process. It is highly influenced by strategy, organisation and culture. The critical question for companies is where to adjust the screws to leverage their innovation performance.
A tool that helps to answer this question is Benchmarking, which allows to evaluate the innovation performance and compare the own innovation management capabilities with the leading companies.
The leading association for Innovation Management in Austria, the PFI ' Platform for Innovation Management, developed together with Prof. Dr. Soeren Salomo the benchmarking tool "Innovate!". By 2013 the benchmark dataset comprises 340.000 answers from more than 800 participants from almost 200 companies.
The structure of the benchmarking is based on the Innovation Excellence Model, which is a map of a companie's innovation management system.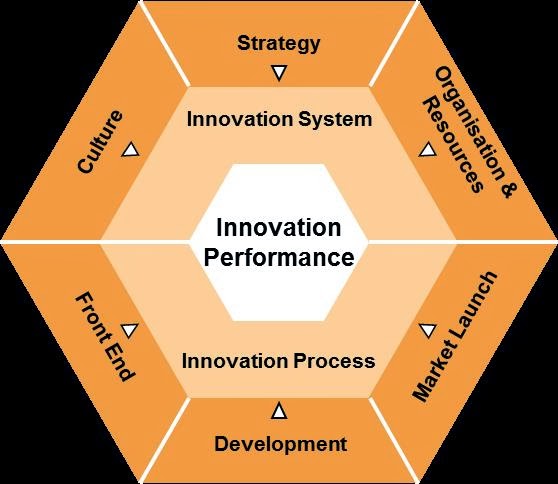 Source: Platform for Innovation Management, Soeren Salomo
The Innovation Performance is the company's economic success, which derives from new products/services and new processes within a given period of time. 
The Innovation System includes the areas of Culture, Strategy and Organisation & Resources, all situated at the corporate or business unit level.
The Innovation Process consists of three main phases: the Front End, Development and Market Launch
The assessment of current innovation practices in the elements of the Innovation Excellence Model uncovers potential gaps related to Benchmarks. As a consequence, measures to close the gaps can be defined and compiled into an Action Plan. Organizational measures may be accompanied by specialized seminars (public or inhouse), training sessions or moderated workshops.
Using this procedure, a company makes sure that the taken measures leverage its innovation performance. The result is an increase of the company's economic success.
ABOUT THE AUTHOR
Prof. Dr. S'ren Solomon is Professor of Innovation Management at the Danish Technical University, DTU in Copenhagen and Head of Department at DTU Management Engineering.
His research interests lie in the management of high-grade innovations. Prof. Solomon is an empirically oriented researcher, his approach is the theory-based observation of reality, in order to extract general insights and guidelines for action. In an effort to map the entire operational innovation management in a model that he developed together with the Platform for Innovation Management (PFI) , the "Innovation Excellence" model.
Find out more about the Austrian benchmarking "innovate! austria": http://www.pfi.or.at/innovate-austria
* Don't miss the workshop of Soeren Salomo and Martin Pattera at the FEI EMEA event on Tuesday, 4th of February at 13:30. After a presentation of major insights into Best Practices of Innovation Management the participants will be split into discussion tables that allow to deep dive into the six areas of the Innovation Excellence Model: Strategy, Culture, Organization, Front-End-Process, Development, Market Launch.