People with epilepsy often welcome the support of their fellow sufferers and actively embrace the chance to learn about their condition. The challenge for UCB – the maker of Vimpat and Keppra XR, two drugs assisting in the treatment of partial-onset seizures – was finding a way to help them do so while staying inside the pharma sector's strict regulations.
An online listening exercise conducted by UCB just over 18 months ago, when Trish Nettleship joined as its director/social media and influence, emphasised just how crucial it was to meet these needs. "We realised, within the epilepsy space, there's this significant feeling of isolation. And there's still quite a bit of stigma for epilepsy patients," she said at the ePharma Summit, a conference organised by the Institute for International Research, and held in February 2014. "There was this overwhelming sense of isolation; lack of information; these feelings of, 'I'm alone.'"
The proposed solution involved establishing a digital arena where members of this audience could easily and naturally come together. "We needed to create a forum for these folks to connect with each other, not feel alone and share resources – and provide resources to them," said Nettleship. (Read more about how UCB engaged with sufferers of Rheumatoid Arthritis.)
In tandem with helping users, such an initiative promised to bolster UCB's broader corporate goal of encouraging patients to discuss partial-onset seizures on the web, as well as "talking to the doctor about that" subject as appropriate. "It's not talked about that much," Nettleship reported, especially compared with generalized seizures.
The firm already knew which sites epilepsy sufferers typically interacted on. "You've really got to understand where your patients are," Nettleship said. And it also knew that a "huge conversation" was happening on the internet, with Facebook and Twitter hosting a majority of the chatter. While quoting UCB's latest figures on this metric, she noted the totals have remained largely stable over time:
 Facebook: 39%
 Twitter: 22%
 Advocacy: 12%
 Forums: 11%
 Blogs: 8%
 Other: 8%
UCB did not have to start from scratch to tap into this trend, either. Its long-running Epilepsy Advocate programme – based around the stories of people with the disorder and their caregivers – had officially been represented on Facebook since 2009. Becoming a trusted partner and adviser to the target group would, however, require developing this presence so it more accurately reflected their interests.
To obtain a clear picture of the topics which consumers with epilepsy cared about, the company delved in to the online buzz. Topics related to lifestyle, medication and treatments were all found to be among the main talking points. "That really drove how we reached out to this audience," Nettleship said.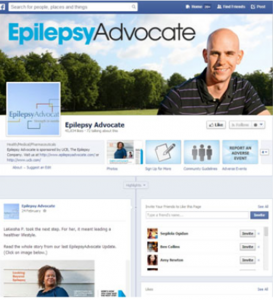 Content marketing rapidly emerged as a particularly powerful tool. "We have patients that need more and more information, and providing that content is one way to reach them," said Nettleship. "Did you know?" facts and statistics have proved to be a simple, but highly valued, type of material – and play into the core strengths of social media. "It's a great way to get our message out there more frequently in bite-sized chunks," said Nettleship. "You have the ability to be more frequent."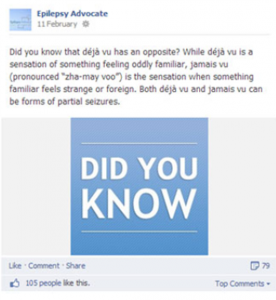 On a wider level, the communal nature of Facebook yielded an opportunity to tap into a huge passion point for UCB's intended target. "They love live events," Nettleship said. "That is probably the one thing they resonate with the most." Bringing its online and offline communities together thus seemingly constituted an attractive strategy for the pharma manufacturer.
In evidence of this, the "My four words" campaign – which asks individuals with epilepsy to briefly sum up their feelings towards it – was brought to life at the National Walk for Epilepsy in both 2012 and 2013. Many of the resultant images and videos were then shared on Facebook. "It really started as a PR/social campaign," said Nettleship. "It grew quite significantly, and we had this real outpouring of the epilepsy community."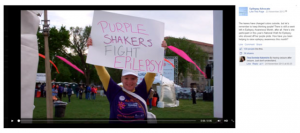 Such a success shows that the impact of genuinely relevant content isn't limited to lean-back consumption, but can instead stimulate people to share their views with their peers – and, indeed, with companies like UCB. "Content is the key. We've got to have relevant content, and then we engage and participate with them," Nettleship said.
Reaching a stage where this was even possible depended upon working closely with the company's medical, legal and regulatory (MLR) department. When Nettleship assumed her current post, the average response time to a post made on social media – once it have been through the necessary review process – stood at a fortnight. "I was floored by that. Two weeks: why even bother responding?"
To move replies closer to the real-time universe inhabited by consumers, she worked with staff from the MLR division for half a day to create a "very simple" model for telling in-house community managers about internal and external policies governing, for example, what they could – and could not – discuss. "It's really not that difficult. We know the rules; our people are trained; we have guiderails now," Nettleship said. "Now it's running, and we've had not one issue."
Such principles had an importance beyond Facebook alone, as various further channels were being used to spread the word. "It wasn't just the Facebook property that we threw out there; it was truly an integrated programme," said Nettleship. "Facebook was the community; Twitter was another way to reach the audience with information; and then we look at blogs and forums as a way to get that longer tail information out there."
Various additional touchpoints were incorporated into the mix, including a free magazine, entitled Epilepsy Advocate, and a corresponding official website. The "Take Charge" tour also saw live talks take place throughout the country. "It's a very comprehensive programme, and not just, 'Here's a Facebook page' and throwing that out there, because that's not going to help us meet our objectives," Nettleship said.
The campaign's results justified the approach. In terms of pure "Likes", the Epilepsy Advocate community on Facebook has surpassed 45,000 people. A "significant" ad budget greatly assisted the expansion process in 2012. "What we didn't have was the right content mix, or the engagement," Nettleship told the conference attendees. Last year, the focus shifted to achieving organic growth in users, coupled with a stronger stable of content.
Assessing the deeper metrics demonstrate the positive consequences of enhancing the quality of this output. Epilepsy Advocate's viral reach doubled year on year and community engagement rose by 66% in the same period. Moreover, the average amount of engagements per user leapt from 1.0 to 1.7 – and hit a peak of three in its most successful month. "This is a hard one to move, but that's the one metric I believe we can control the most," Nettleship said.
Even though she was not permitted to divulge the precise figures regarding the number of conversations occurring between patients and doctors pertaining to partial-onset seizures, Nettleship stated that the company "did meet its objectives" here, and has "got some other things planned from a content perspective to continue to drive that conversation between epilepsy patients and healthcare providers".
And the next phase for UCB on social media will be to provide customer service, building on its existing tactic of tracking brand mentions and responding to posts covering matters like product issues or adverse events. "We're evolving that model to where we're actually going to do customer service – in a human way, not an automated tweet or anything like that," Nettleship said.
"There are a lot of reasons why that is [going to be] a good thing – one reason is because we serve our customers where they want to be served. But think about driving calls out of the call centre; there's some benefit to that for us; there's an ROI there."
Download this report and see all other ePharma Summit features from WARC here.
Originally published on March 14, 2014.