Climate change risk is often categorised as a non-financial risk – more anecdotal and harder to quantify than classic risks. However, that attitude is changing. As a threat multiplier and amplifier, climate risk's impact on financial risks is significant, and understanding its exact nature will be key for businesses' future operational resilience. So what are risk managers and risk management teams doing to address climate change risk, and what are the key hurdles to overcome in 2021?
At the end of last year, we asked the RiskMinds community about the biggest emerging risks to watch in 2021. Interestingly, Covid-19 (along with geopolitical risk) was only second to the giant that is climate risk, with 67% of risk managers saying that it is very important for them, personally, that their firms take strong action against climate change.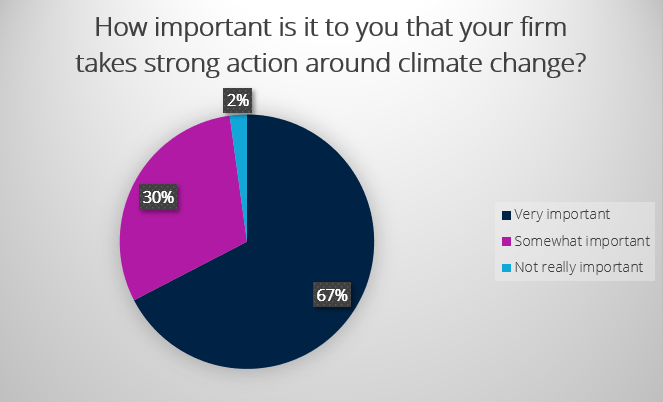 At Swiss Re, a Sensitive Business Risk Framework was put in place to evaluate the businesses on ESG criteria. Risky investments are flagged, and passed on to ESG experts to further assess, and reject, if necessary, Karen Tan, Chief Risk Officer, Reinsurance Asia & Head of Life & Health Reinsurance Risk Management Managing Director, Swiss Re, told us at RiskMinds Insurance.
BNP Paribas recently exited tobacco and oil & gas, giving up short-term gain for longer-term sustainability. The funds that were freed up in this process were then used to invest in renewable energy and other sectors going green, Constance Chalchat, Head of Company's Engagement CIB, BNP Paribas, said.
Although these examples showcase remarkable steps taken to fight climate change, Swenja Surminski, Head of Adaption Research, Grantham Research Institute on Climate Change and the Environment, London School of Economics and Political Science (LSE), noted that in the sector: "There's a lot of good will, but there's very little action."
There are also a limited number of truly green opportunities around, Karel Van Hulle, KU Leuven, Goethe University, Frankfurt and Former Head of Insurance and Pensions, European Commission, said. Green washing and assets turning brown can be challenging to spot, and these incidents can hinder the ESG agenda. Although there's plenty of internal, investor, and client pressure to go green, it will be regulatory pressure that will have the biggest impact on climate change risk management.

How is climate change risk regulation progressing?
Countries in South America are taking different approaches. Brazil introduced strong stress testing practices for climate change; Columbia is the first country to come out with a supervisory declaration and guidelines; while in Mexico, the central bank is gathering sustainability best practices. Risk practitioners are now on the lookout for the announcement of taxonomies and KPIs.
Note, however, that these approaches are fragmented. Karen Tan, operating across Asia, has the same challenge, where regulatory bodies have vastly different expectations, which will be a challenge for financial institutions to adhere to. Harmonisation and regulatory consistency are key in advancing climate risk management activities.
"Regulatory change will be necessary to make this happen", Karel Van Hulle said.
Without a universal standard in regulations and reporting, comparisons between businesses and business operations are meaningless. Giles Fairhead, Chief Risk Officer, Pension Insurance Corporation, added that perhaps the approach to regulations needs to evolve, too, from focusing on processes, frameworks, and models to focusing on outcomes, in order to drive climate risk management better and to help organisations detect green washing activities.
The first steps to address climate change risk have been taken. Regarding it as a financial risk, risk practitioners are now keen to improve the existing quantitative data and to fine-tune decision-making processes. However, regulators' role will be necessary in advancing these efforts, and moving forward, we are keen to see new developments from both the regulators' side and financial institutions' side.