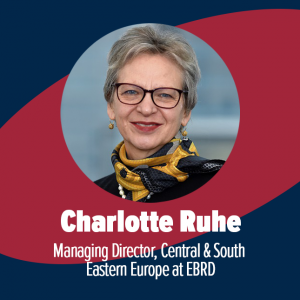 With a focus on Central and South Eastern Europe, we take a look with EBRD's Charlotte Ruhe at how Europe will transition in its post-pandemic recovery, and the opportunities and challenges that will appear along the way that investors should be aware of. 
Q: Has European private equity truly grasped the transformative trends of the future including ESG, impact, and all things green?
ESG incorporation into funds has been fundamental to the development of the PE market. ESG matters have "leapfrogged" in CSEE compared to US or even Western markets because the market was seeded by Development Finance Intermediaries. ESG considerations have been integrated into GP investment mandates from the start, with an initial primary focus on governance moving to social and environmental issues as the economy and business ecosystem has matured.
Q: How is digitalisation transforming the private equity industry in Europe?
Digitalisation was already a major trend pre-COVID-19, affecting the future of work and indeed all sectors. No doubt, there will now be an acceleration of this trend. There is no sector untouched by these technology disruptions, albeit with different levels of intensity, opportunity and risks. Technology – especially digital technology – is opening opportunities to drive competitiveness, inclusion, green growth, integration and resilience. At the same time, technology is also disrupting the way sectors, businesses and consumers function and interact.
The performance of EBRD's Equity Funds portfolio has proved remarkably resilient given the impact of the pandemic, notably because of the digitalisation embraced by fund managers and companies alike.
This is also a reflection of the fact that CEE is increasingly recognised for its strength as a tech hub and for the calibre of its tech talent. We are seeing a rapidly developing venture capital ecosystem and international exposure through, for instance, the IPO of the e-commerce platform Allegro in Poland and recent unicorns such as the communications platform Infobip in Croatia, the CRM developer PipeDrive in Estonia and the software developer UiPath in Romania.
Q: Is the way forward to invest in secular trends?
The COVID-19 pandemic might act as a catalyst and accelerate the development and adoption of secular trends. Business are adapting quickly to the new environment of lockdowns and remote working in order to continue serving their customers while preserving their employees' health and safety.
The pandemic has reinforced already existing trends towards online trade, delivery services, contactless/mobile payments as well as cloud services. Similar to most major crises, the unprecedented situation the world is facing calls for accelerated innovation. The proliferation of remote working will also be a major step towards a truly global labour market.
While we do not expect the pandemic to end globalisation, we believe it will lead to a different model of globalisation where a premium will be put on risk-mitigation and higher security. One example is reshoring, which will create new opportunities for economies to compete for FDI, but where the ambition to keep labour costs under control will boost automation.
Historically, infrastructure spending has formed part of stimulus packages and governments will attempt to kill two birds with one stone this time around, simultaneously stimulating the economy and improving sustainability.
Q: What challenges will different sectors in Europe face post-pandemic? What will EBRD be focusing on?
We expect a further contraction before we return to growth, and the view is now that the recovery will be more fragile and gradual than initially expected because of the continuing health crisis and the slow and uneven rollout of the vaccine. However, we expect growth in CEE will be higher than in Western Europe.
The crisis will have longer-lasting and deeper effects. We aim to help our clients Build Back Better, through:
• Reshoring/Diversification
• Digitalisation
• "Tilt to Green" (more like a seismic shift)
Q: What opportunities do you see in Central/South Eastern Europe that's unique to the area?
To date, the EBRD has supported over 50 fund managers in CEE through more than 100 funds and in total over 780 sub-investments in CEE. Today, CEE-focused fund managers represent over EUR 700 million. These managers have returned EUR 1.9 billion to the Bank, and among those who have raised more than one fund, generated a pooled IRR of 8% since inception, and 12% on liquidated funds with corresponding gross returns of 17%.
CSEE is often overlooked among emerging markets globally due to the size of its opportunity set, its fragmentation and its growth rates. This is reflected in a relatively low investor confidence level and low private equity penetration relative to GDP.
While economic growth rates are lower than in other emerging markets, so is the risk, meaning it has a place in a portfolio between developed and emerging markets (penetration is around 20-30% of what it is in Western Europe). A less saturated PE market, with a low level of dry powder relative to developed markets, has meant less pressure on purchase prices than in the US or neighbouring countries in Western Europe.
Moreover, GPs face less competition and have better access to proprietary deal-flow and primary deals, often straight from first-generation owners. Succession is an opportunity in a region where company founders from the 1990s are coming up to retirement. The region is converging with Europe, with a growing middle class, creating opportunities for consumer goods and services, healthcare.
The EBRD invests with a double bottom-line target, following sound banking practices, but seeking to have a positive development impact in this region.
---
Under the spotlight: Charlotte Ruhe
Charlotte Ruhe is EBRD's Managing Director for Central and South Eastern Europe, responsible for delivery of business and policy reform in 17 countries from Poland and the Baltic States to Greece. Central and South East Europe includes the Western Balkans and all EU countries of operation of the Bank, and accounts for more than one third of EBRD's business. She was previously Director, SME Finance and Development, providing finance and advice to SMEs across 26 EBRD countries of operation. Charlotte served as Director for Croatia in Zagreb from 2005 to 2010. Prior to that she led the EU-EBRD SME Finance Facility as a Senior Banker in the Financial Institutions Team.