After one of the worst years on record for investors, we consider which investment themes have potential to address today's most pressing challenges.
As we approached 2022, we noted that the year ahead could well form a turning point for the global economy and markets.
With hindsight, "turning point" was a serious understatement of the dramatic shifts that convulsed the investment landscape last year.
Many asset classes posted losses, with typical equity-bond correlations breaking down. The context: Rampant inflation, stoked by geopolitical conflict, which in turn hastened the retreat by central banks from one of the most benign environments for monetary policy in decades.
With much of the world economy sliding into recession, and higher rates continuing to bear down on relative valuation levels, we believe investors should gird themselves for returns that are subdued at best in 2023. Indeed, we think equities may reach new lows, before recovering later in 2023 as inflation is tamed. We also expect market volatility to remain heightened.
Peak inflation, peak rates
Yet despite the justifiable bearishness with which markets greeted the numerous shocks suffered in 2022, in some instances they overreacted, in our view.
We believe, this creates an interesting opportunity set for investors in 2023, even as the clouds over the investment landscape are unlikely to dissipate until there's greater clarity around peak inflation – and peak rates – and the trajectory of the Ukraine-Russia conflict.
The past year also demonstrated the importance of energy to the global economy. Energy security and decarbonisation are inextricably linked, in our view. LGIM's representatives at COP27 spoke of the tremendous energy they felt at Sharm El-Sheikh among the other participants, with whom they shared a sense of real urgency. We need to harness that energy to avert the worst climate outcomes and seize the opportunities, before it's too late.
With this challenging context firmly in mind, below are three investment themes we believe could provide solutions to some of today's most pressing problems.
1. Energy: a crisis years in the making
As millions of people struggle with the cost of heating their homes this winter, the need for affordable and decentralised renewable sources of energy has never been greater.
Europe's energy crisis was triggered by Russia's invasion of Ukraine, but the fragility of our energy network is a result of years of underinvestment into renewables.
The climate crisis, meanwhile, hasn't gone away simply because gas supplies have been squeezed.
Renewables – primarily wind, solar and hydroelectric – hold the key to solving these intertwined problems. Today, only around a quarter of global electricity supply comes from renewables, while renewables' share of the global energy mix, which includes transport and heating, is only 11%.[1]
The good news is that wind and solar power are among the cheapest sources of electricity in the world today. As such, there remains huge potential for growth driven by attractive economics, rising demand and the immediate need to reduce our global carbon footprint.
A common issue for renewable energy sources is intermittency, but battery technology has the potential to overcome this. Grid storage and behind-the-meter storage can improve the efficiency of power networks by mitigating fluctuation of inputs.
The opportunity represented by grid storage applications for battery technologies, however, is dwarfed by that of electric vehicles (EVs). The falling cost of EVs, coupled with public recognition of their advantages, is projected to see annual growth in European EV sales of around 36% between 2019 and 2024.[2]
2. Hydrogen: a cleaner option for hard-to-abate sectors
Looking further ahead, getting industries such as ammonia producers to switch from grey hydrogen (produced using a carbon-intensive team methane reformation process) to blue hydrogen (essentially grey hydrogen with carbon capture and storage) and green hydrogen (produced using electrolysis, which is much more sustainable) could represent low-hanging fruit.
Green hydrogen could also help the energy transition in hard-to-abate sectors such as cement, steel and glass manufacturing.
Although the overall opportunity across clean power, battery technology and green hydrogen is huge and headway was made at COP27 to fund building clean energy capacity in less developed counties, potential headwinds could include delayed policy support and higher funding costs, which could particularly hit projects that are typically capex heavy.
3. The digital economy: new challenges, new solutions
Cyber security is another theme with several potential growth drivers in 2023. Rapid digitalisation during the pandemic increased the threat posed by cybercrime, and demand for defences.
Although some important segments of the industry are mature, new technologies are also emerging that could shape the next decade.
One example is hardware security modules (HSMs) and trusted platform modules (TPMs), which provide extra security for sensitive data. TPMs are a requirement for Windows 11, which is expected to become the standard operating system for new PCs in the coming two to three years.
Photonics – recognised by the European Commission as a key enabling technology of the 21st century – is another established theme with great potential, in our view.
Technology for manipulating, transmitting and detecting light is already widely used in the automotive industry, agriculture and robotics, and it could also play a key role in emerging fields such as quantum computing.
Under the spotlight:  Sonja Laud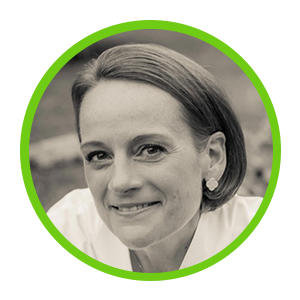 Sonja Laud (neé Schemmann) is an experienced senior finance professional with more than 17 years of experience in the Asset Management Industry, having worked across multiple countries and for listed (FTSE 100, DAX30) and unlisted companies.
Sonja joined LGIM in January 2019 from Fidelity International where she held the title Head of Equity, responsible for the Global, Equity Income and UK Portfolio Managers as well as the Investment Director team.
Initially at DWS Group in Frankfurt, where she was an award-winning global equities portfolio manager, she then moved to Schroders in London where she managed several global, European and UK equity funds with a focus on high-dividend stocks. After eight successful years, she moved to Barings where she launched and managed global multi-asset portfolios and was a voting member of the asset allocation group before joining Fidelity International as Head of Equity.
Sonja has completed a Global Executive MBA program at TRIUM (LSE, NYUStern, HEC) and has MSc, EMIM from ESCP Europe. She is a CFA Charter holder.
Aanand Venkatramanan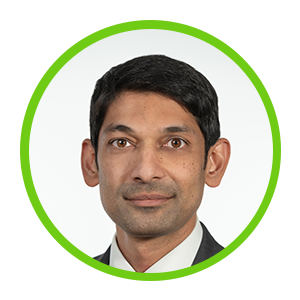 Aanand leads the development and growth of the ETF business. Aanand joined the investment manager from ETF Securities after the successful acquisition of the Canvas ETF business which completed in March 2018. He joined ETF Securities as a Director, Quantitative Investment Strategies in May 2017. Prior to that, he worked at Barclays Capital and Goldman Sachs International as a vice president within their index research and structuring groups respectively; and at University of Sussex as an assistant professor in Finance. He has published papers in top academic journals and co-authored book chapters. Aanand holds a PhD in Mathematical Finance and Master's in applied Mathematics from the University of Reading.
Find out more about IMpower Incorporating FundForum 2023 here >>

Source: LGIM views expressed as at January 2023.
Assumptions, opinions and estimates are provided for illustrative purposes only. There is no guarantee that any forecasts made will come to pass.
[1] Source: https://ourworldindata.org/renewable-energy#how-much-of-our-electricity-comes-from-renewables
[2] Source: https://www.marketdataforecast.com/market-reports/europe-electric-vehicle-market