Many treatments suffer long delays in development, and even lack of funding, due to lack of diversity in clinical trial enrollment. Mistrust towards drug development processes lies at the heart of the problem, and is prevalent among patients of Black, Latinx, LGBTQ+ and low socioeconomic backgrounds in the US and Europe. However, leading companies in biotech and pharma are taking initiatives to tackle the problem.
In a panel discussion at this year's BioPharm America Digital, session chair Elliott Francis, Director of Diversity & Inclusion at BIO and Celia Economides, Senior Vice President of Strategy and External Affairs at Kezar Life Sciences discussed how the industry can address the obstacles in patient enrollment for clinical trials.
The gap in patient diversity
"One of the diseases that we're working on is lupus nephritis, which disproportionately affects women of color," said Economides. "When we did our clinical trials, 10% of the patient population we recruited were black, when the vast majority of people that are living with lupus nephritis are black women. It's really been an issue across the industry."
She added, "I also have started to see that these diseases that disproportionately affect people of color or women of color don't actually get the focus, or attention, from both of our industry and even from the investment side of things."
"There's been one drug approved in lupus in 50 years, why is that? Look how fast we're moving with COVID-19. It really goes to show, if you focus attention and investment, you can figure out what's happening with these diseases."
The ripple effect of historical stigma
The panel speakers discussed how cultural and historical stigma around clinical trials has adversely affected the participation of African Americans and other minority patient groups, resulting in delays and gaps in crucial drug development.
"It's quite a project to undertake and there's many obstacles to overcome, a lot of history, a lot of folklore around the Tuskegee experiments. There's a lot of misinformation, mistrust," said Francis. He reflected on the moment that his mother, who had been diagnosed with cancer, refused enrollment in a clinical trial for a treatment when approached by her doctor.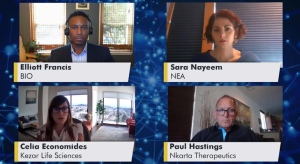 "My mom vehemently disagreed. She said 'no, I don't want to be a guinea pig', and I realized at that moment that the fear and misinformation is what was driving her response. I had to be the intermediary to say 'well, let's hear him out, let's talk about this', because I understand a little bit more on why it's important to enroll these populations into clinical trials and all the benefits associated with it."
Broadening out
Economides illustrated how extra work is needed by pharmaceutical companies to reach out to targeted communities. "I've worked with patient advocacy groups [through] most of my career, but really disease-specific, and I'm finally shifting that a little bit and working with groups that are a little more diverse," she said.
She explained how Kezar is partnering with population-specific patient advocacy groups such as Black Health Matters and Black Women's Health Imperative to engage with African American communities and to educate them about clinical trial processes early on.
Reflecting on the COVID-19 pandemic, she said, "it's brought to the limelight how important it is to have our clinical trials be reflective of all of the patients we're trying to treat, not just the one group that gets really motivated to participate in a clinical trial."
Let's be patient
Economides also emphasized the task of changing attitudes towards clinical trials will require time and patience from across the industry. "From a company standpoint, we also have to be OK with the fact that it may take longer to recruit those clinical trials, but for a company to be OK with that, the investors also have to be OK with that… because a lot of them want to see results as fast as they can. We need to have the entire industry focused on this issue and really elevate the importance of it."
Francis noted how this has also been demonstrated in the urgency of developing a COVID-19 vaccine. "I loved how Moderna slowed down their clinical trials just to make sure they had the right number of representation before they closed and moved on," he said. "To me, that's an unprecedented move that we need in times like this."
Learn more about what the biotech industry is doing to invest in diversity by joining us for 'Investing in Diversity', a on-demand open-access session as part of Biotech Showcase Digital on January 11-15.