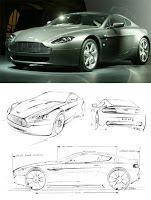 From LATimes.com
Another trickle down from the car industry bust comes from the hopeful talents of car design students. This highly techinical skill set may have to undergo an enormous shift with the coming years as demand for autos diminishes. One bright spot--people will we looking for alternative transportation! Don't put down those pencils too quickly, start designing!
On the same night that the Senate was killing legislation to bail out U.S. "Normally there are a lot of designers from the big companies, but with all that's going on, nobody is coming," said Julius Bernardo, 27, who has dreamed of designing flashy cars since childhood and spent about $100,000 on his education. "At this point in time, you have to start thinking about other kinds of jobs."
For the rest of this article, please click here.