By Dan Keldsen - Co-founder and Principal at Information Architected
In a recent study of over 180 companies, Information Architected Inc. (IAI) found that while most organizations view innovation as critical to their success, less than half of respondents are proactively DOING innovation. Highlights:84% view innovation as critical, yet only 49% have put in place any formal process to manage innovation68% of the surveyed organizations' management believes that innovation should be managed as a corporate asset and process, yet only 49% have any form of executive management presiding over innovation.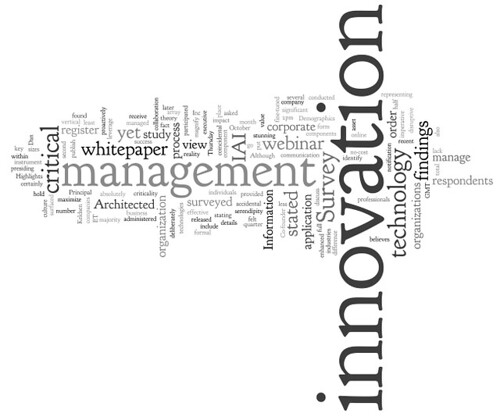 The difference between theory and reality was also stunning in the application of technology to manage and magnify innovation.Although innovation management is NOT about technology, it can certainly be fine-tuned and enhanced through the application of technology.In fact, 56% of the individuals surveyed stated that it is imperative that an organization deliberately leverage technology in order to maximize the value of innovation management. Yet 35% stated that there was a lack of effective collaboration and communication technologies within their organization.

Other key findings include:
When asked to identify the criticality of several components to innovation management, corporate culture surfaced as number 1, with 71% stating it was absolutely critical.
The majority (61%) of respondents stated that serendipity (accidental or coincidental innovation) was the least critical component of innovation management.
82% felt that innovation did not have to be disruptive in order to have significant impact.
IAI will publish a whitepaper that details all the findings of the study later this month, and hold a no-cost webinar to discuss the findings on Thursday, October 29 at 2pm ET (-5 GMT).

To register for the webinar and receive notification when the whitepaper is released go to:
Register for the 2009 Innovation Management Whitepaper and Webinar

About the Survey
This IAI Innovation Management survey was conducted during the second quarter of 2009, and was administered through an online survey instrument. A total of 180 business professionals participated in the survey, representing a full array of vertical industries and company sizes. (Demographics can be provided.)Partial underwriting of this Survey was provided by: