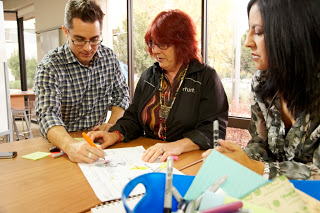 See Intuit For Real
at Back End of Innovation, Nov 19, 2013 
It's all too rare that we get to go behind the scenes,
witness and experience what makes a company that is SYNONYMOUS with innovation
tick, especially one that has been doing it continuously for thirty years.
 As a strategic partner to the 
BackEnd of Innovation (BEI)
 conference, we are happy to be giving the IX
community early notice that BEI is including on-site experiential learning in
the form of (#BEI13) Field Trips to three innovation powerhouses (Intuit,
Xerox Parc andPayPal.) The first, Intuit, will be held on November
19, on Intuit's corporate campus in Santa Clara, and led by
Suzanne Pellican, who has one of the better titles I've seen of
late ' Director, Design for Delight and Innovation Catalysts.
In Their Own Words'
Intuit on Innovation: 'Innovation
at Intuit is systematic. Yet we afford our employees the autonomy to tap into
their own passions to delight customers and grow the company. Innovation at
Intuit is the intersection of customer, technology and business insights. We
encourage our employees to know our customers ' watch them, listen to them,
visit their homes and workplaces ' so they can discover and solve important
customer problems.'
10% of Employee Time
for Exploration/Experimentation
'Our secret sauce for innovation is Design for Delight
(D4D), our way of looking at design thinking. We also nurture our employees to
be innovators through a grassroots environment that taps into their passions
and lets them spend 10% of their time exploring and experimenting on their
ideas. We call this Unstructured Time.'
Applicability to Your
Organization and Business
Can you say that about your business with a straight face?
It sounds simple and straightforward. But as we all know, implementing it is
something else entirely. And that's why we're heading to Intuit ' to see, feel
and experience an environment that's fully committed to implementing ideas and
creating a persistent innovation culture.
A Little Background
For 30 years Intuit has been simplifying the way people
manage money, a rather profound 'job to be done.'  Products like
Quicken, TurboTax, QuickBooks, and Mint get those jobs done for people at
home and at work.   All of these software products are developed by 
Intuit Labs,
 which has a point of view
about how to fuel and innovation pipeline.
They started small in 1983 with Quicken personal finance
software, simplifying a common household dilemma: balancing the family
checkbook. Today, they've served the lives of more than 50 million people, and
have annual revenue approaching $4 billion. They're publicly traded with the
symbol INTU on theNasdaq Stock Market, and regularly recognized as one of
the best places to work in locations around the world.
The BEI13 Field Trips
are about making Intuit's innovation style visible.
Intuit is one of the companies innovators admire and want to
work for because of their track record, their longevity, and especially their
people. Let's go see them, talk to them, breath their air. Seeing is believing
in any realm. In Innovation it's especially true. Because the kind of synthesis
of leadership, courage, resources, vision, and practice that it takes to grow
to 4Billion in revenues does not happened by accident. The kind of people
coming to the Back End of Innovation work at Innovation for a living. They KNOW
it's HARD.  Rewarding to be sure, but hard. Intuit believes in the power
of the individual and puts teeth into the belief.  Beyond the words,
implemented in action.  Now that's a job to be done!
Come Join Us at
Intuit on November 19 at BEI
To learn more visit www.backendofinnovation.com. To register
call: 888.670.8200 or Email: register@iirusa.com. And don't forget to get your 15%
Discount off the standard price, using the code BEI13BLOG. Register here: http://bit.ly/13MlC6Y 
About the Author: Julie
Anixter is Principal at Think Remarkable, Chief Innovation Officer at Maga
Design, and Co-founder of Innovation Excellence. She is also the curator of the
remarkable, business builder, innovator, facilitator or change, and executive
editor at InnovationExcellence.com.