Image stolen from the internet, figured Alexa Clay would appreciate the deviant behavior. 
We started the day with Soon Yu from VF Corp who shared his credit score with us and gave us a horrific list of his failures. It has always been my belief that a leader should put themselves out there and make their own humanity transparent. But, Soon Yu did the equivalent of walking out on stage naked. Considering VF Corp owns Wrangler, The North Face and Smartwool, his nakedness was impressive on a couple levels. Soon Yu pulled us into his story with a story around selling an idea versus sharing a vision. He was a great way to open our brains to accept the morning list of keynote speakers.
Soon Yu then introduced Alexa Clay who took the stage with a modest start and then took us through a story of misfits, hackers and the ingenuity of the fringe. Alexa concluded a worldwide anthropological study with a book, The Misfit Economy. While that was interesting and sounds like a worthy read, the intriguing part of Alexa was her stories of taking the role of Futurist Amish to research innovators and leading thinkers. Though, her lessons from misfits were likely the most written down by the audience leaning into the conversation. You can find these in another blog post here and more depth on these packets of content from Alexa. These are worthy of taking back to the office and perhaps even conduct a LARP event in the backwoods behind your office. Please invite us along if you do.
These writers are quickly learning Alexa was an oasis in the bleak landscape of over churned corporate words and ideas. Alexa shared a view inside gangs looking to change their label to mentorship organizations. Alexa also gave us a look at why buttermilk should not be innovated. Alexa gave us a view of those who disagree with the present and see a new future. And, seeing a new future is certainly fertile ground for the next speaker, Dr Vijay Govindarajan.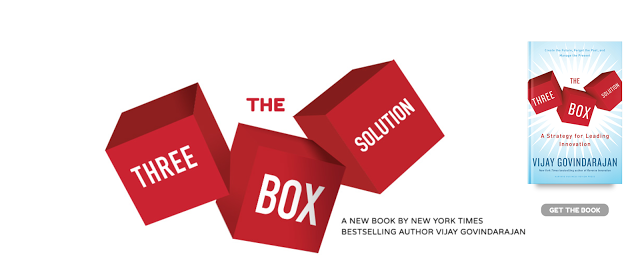 Dr. Vijay gave us three boxes to play with in our heads. Box one, manage the present; box two, forget the past; and box three, create the future. Inside this simple framework from his Three Box Solution to innovating the future, Dr. Vijay gave us some intriguing stories. The Olympic high jumpers innovating their effort to defy gravity was bountiful. The story went back to a day when we used the scissor technique to clear a bar and the current Fosbury Flop as the most modern gravity defiance technique. The Fosbury Flop is not intuitive, heading over a bar with your head first is both dangerous and not natural. This was an elegant way to understand how revealing the future isn't as easy and putting your head into the third box is essential.
The trifecta of Dr. Vijay, Alexa and Soon Yu was an intellectually intriguing way to start the day.