Innovation wears many hats. That's because so many of us regardless of role, culture or company size are charged with identifying fresh opportunities for growth.

Creating disruption calls for all hands on deck....synthesizing various disparate visionary information into a strategic action plan that is more than just a trend report - it's a playbook.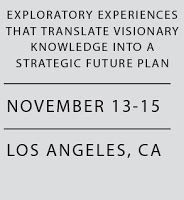 When the best thinkers come together interesting conversation happens.... When committed DOERS come together, the future happens!
3M 
Abn Amro
Adept Consumer Testing
Altria Client Services
Anthony Meindl's Actor Workshop
Autodesk
BAE Systems Platform Solutions
Daimler Mobility Services
Binghamton University
Bose Corporation
California State University 
Cars.com
Colgate Palmolive
Creathink
Crewest Studio
Crown Equipment Corp
Disney Destinations LLC
Elephant Ventures
Estuary
Evolution Fresh
Expotechnik
Extend Limits
Facebook
Firmenich
Fidelum Partners    
Futureideas.eu 
General Mills Inc
Fifth Third Bancorp 
Firmenich
General Motors
Green Food Nation
Grid Logistics
Highmark
IBM Software Group
IFF
Innotribe
Institute of Competition Sciences
Interior Foliage Design
Johnson & Johnson
Jugaad Innovation
Logitech
LynxEye
Mary Kay Inc
Mediacom
Microsoft
Monitor Deloite
Muse
Nestle Purina PetCare
Nomads 
PepsiCo
PG&E Utility
Post Foods
Plum Organics    
Pormerk
PureMoxie
Razorfish
Scifutures
Snaps!
Sony Electronics
Sphere Trending
Springwise
Startupnectar
Starwood Hotels
State Farm Insurance 
Swift
Takasago
Telefonica Digital Spain
The Executive Office
The Fountain Group
The Hershey Company
Trendhunter.com
Trendwolves
Tupperware Brands Corporation
Unilever
University of Southern California
Viacom Media Networks
Village Green Network
Walt Disney Parks & Resorts
Weyerhaeuser
WPP Network
The future happens at
FT'13
! We hope to see you there.