If you're thinking like an innovation mercenary, then you'll find innovation inspiration everywhere. Including the reality television show America's Got Talent (AGT).
We know innovation hinges on the Big Two'Uniqueness and Relevance'which together account for about 85% of all innovation success. On a recent episode of AGT, an Earth Harp performance gave us a look at a couple key levers of Uniqueness and Relevance.
Uniqueness:
' The biggest instrument most of us are aware of would be something on the order of a string bass, a sousaphone (the wrap-around tuba in marching bands) or perhaps Neil Peart's drum set (the drummer from Rush'there, I invoked Rush!).  The Earth Harp uses the whole theater as the sound chamber'literally tying the stage to first balcony.  When thinking 'scale' as a lever of uniqueness, we're often impressed by 50%, 100%, or every now and then 200% more than the expected size.  How about something 2000% larger?  Couple that with what seemed to be original music, played by a clear master of this breakthrough instrument, and you have a very exciting Uniqueness story.
' How This Relates To Innovation Work: Look for opportunities to scale on an order of magnitude that no one else would even begin to consider.  The quickest way to cut through competitive clutter is to have no competition.
Relevance: 
' What would it be like for you, an audience member to be inside the instrument?  I would love to get inside an acoustic guitar when a Segovia was playing it.  With the Earth Harp, you are literally involved in the performance, like egg whites are involved in meringue.  Hear it, feel it, be it.  It's one thing to feel a pounding bass in your chest from massive speakers at a loud rock concert, but this seems to be a very different experience, substituting the brute force of volume for something approaching the other-worldly.  It seems like the music would entirely surround you.
' How This Relates To Innovation Work:
Seek out ideas that involve your customers at a heightened level and have more potential to resonate long-term. Uniqueness doesn't work if there's no intention of repeat purchase. To be relevant, something needs to burrow itself into our lives and stay tethered there so we can enjoy the experience of it again and again.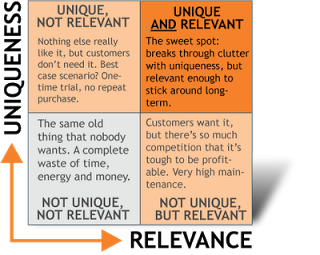 So what can innovationistas learn from a somewhat formulaic reality contest?  Innovation can be spurred by approaching Scale and Involvement in a fresh way.  Use that inspiration to start thinking of strategies/levers that can drive to each of the Big Two.
Challenge Yourself:
Consider new Uniqueness and Relevance levers for your product-market space.  Within each lever, think outrageously, not just incrementally.  Where does it take you?  Go far beyond reasonable, then scale it back to something that's still obviously breakthrough, but perhaps just a tad more approachable or feasible
About the Author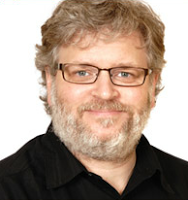 Adam Hansen is a Facilitator and VP of Innovation at Ideas To Go, Inc. Ideas To Go is an innovation process consulting firm. Our expert facilitators, along with our Creative Consumers' associates, will help stretch your thinking to discover insights, areas of opportunity, and your next big idea. For additional information, contact srobertson@ideastogo.com.