By: Tom Ewing, Senior Director, BrainJuicer Labs
On Day 2 of TMRE, in the Innovation Track, a case study
presentation by Sargento Foods inadvertently illuminated one of the big issues
in innovation: the gulf between how we talk about it, and how it actually
happens.
The track chairs, Michael Laux and Thania Farrar of Burke,
kicked the session off with the former, a chart showing the ever accelerating
pace of technological innovation. It was the kind of chart that shows the
electric lightbulb and the steam engine as less dramatic advances than the iPad
' but it made its point. This is how people in our industry talk innovation '
as an ever-accelerating hamster wheel of change on which brands must spin or
fall off.
But is that really how innovation works? Michelle Monkoski
and Barbara Kilcoyne of cheese giant Sargento implied a rather different view '
where patience and timing, not frantic acceleration, are the keys to innovating
against consumer trends.
Their case study focused on Sargento's Cheese Medleys
product, a proposed 2004 launch which mixed cheese, nuts and fruit in packs.
Cheese Medleys boasted an array of benefits ' a high-protein snack with healthy
ingredients, perfect for on-the-go consumers. It was a 'balance snack', where
buyers didn't have to choose between great taste and nutrition.  But
if you're struggling to picture it, though, don't worry: in testing, Cheese
Medleys was a failure. The benefits simply didn't connect with consumers.
Sargento cares about consumer trends, though. It has an
annual trend day ' called Trendscape ' whose results feed into R&D, Sales,
Category Management, Marketing and Business Development. Through its consumer
trend work ' based on research and on thinking outside the category box ' it
could see trends coming down the pipe like a new interest in the health
benefits of protein, like 'snackification' and greater demand for one-the-go
food, and like a rethinking of what 'healthy' food is.
This last trend was particularly crucial ' it represented a
shift in the consumer mindset from reactive health to proactive health. With
reactive health, you try to cut out the bad stuff. With proactive health, you
try and embrace the good stuff. Ideas of balance, of real and wholesome
ingredients, and of freshness came back into play.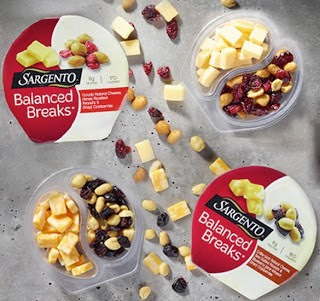 An idea whose time had come.
These were exactly the kind of trends that Cheese Medleys
had been designed to appeal to. And now they were heading into the mainstream.
So, eight years on from the poor performance of Cheese Medleys, Sargento
designed and launched Balanced Breaks. The same basic concept, but now the
trends it addressed were more familiar and recognisable to consumers.
Sargento left little to chance. Everything from the flavours
to the semiotics of the package ' designed to remind consumers of a yin-yang
sign and suggest balance ' was carefully considered before launch. And Balanced
Breaks proved to be an idea whose time had come ' it's been a success,
outperforming expectations for Sargento.
The philosophy Sargento applied for this successful
innovation is a simple but powerful one. You need three things. You need a strong
brand. You need on-point trend identification. And you need the right
timing and meaningful activation for consumers.
In other words, successful innovation for a mass market
brand isn't always about the headlong rush towards novelty. It's also a waiting
game. You sometimes need to patiently wait until the trends your idea speaks to
are sufficiently mainstream and recognisable among consumers for your launch to
succeed. As the presenters said, 'Don't be afraid to take a new look at an old
space.'
That's not the glamorous route to innovation at the bleeding
edge. But it works.