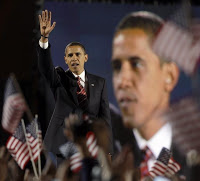 How has the unlikeliest of candidates risen above and won the presidential election despite the fact that many conservatives argue that he has no executive experience? The answer here is that Barack Obama is a leader in radical innovation, as this article on Business Week explains. He has ran a political campaign like no other before, including participation from mountains and mountains of volunteers and the effective use of social media such as Facebook, blogs, and even Myspace.
Business Week has created a list of seven lessons for radical innovation that Barack Obama has brought to the table through this political campaign. Here's the list:
Have a self-organization design. Obama's campaign broke new boundaries when it decided to think 3 dimensionally instead of the 2-dimension concept of tall and flat. His campaign included many volunteers, donors, and participants which helped balance asymmetries in marketing, finance, and distribution, unlike McCain's campaign.
Seek elasticity of resilience. Obama's campaign was built for resilience instead of maximizing outputs. When McCain attacked Obama with negative ads, the Obama campaign did not retaliate and instead they held massive fundraisers.
Minimize strategy. The Obama campaign wasted little time on strategy as they felt that strategy too often destroys credibility and corrupts valuable meaning.
Maximize purpose. Obama's goal was more than just to win the election. The 'Yes we can' campaign proved that he wanted to change the world.
Broaden unity. Instead of segmenting and targeting over and over like traditional marketers, Obama's campaign succeeded through getting through to all markets with a unifying message that would hit home.
Thicken power. Thin power relies on beating people into subjugation by instilling fear. Obama concentrated on 'thick power', which is true power. Obama was able to inspire, lead, and create a strong belief among people.
Remember that there is nothing more asymmetrical than an ideal. The last lesson proves that an ideal is revolutionary and innovative. Barack closed out his election speech by saying, 'let's go change the world.'
The article mentions that the 7th lesson is the starting point for tomorrow's radical innovators, and I fully agree. I hope this revolutionary campaign has inspired businesses to use these seven lessons to think 3-dimensionally in their innovation practices.