I'm always on the hunt for innovations and keen to improve my
own understanding of the the process and ability to implement innovation
.
Regardless
of the industry or endeavor, innovation can come in a number of forms.
Since I'm the final filter on what interests me, there's no logic to my
search strategy. Philosophically I believe you have to open your mind,
shelve all your biases, decouple the lessons of experience and actively
embrace "the different."
Don't paint by numbers. Be unusual, do post modernism.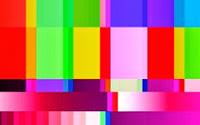 If you think too much, you anticipate too much and hold yourself back. Scan for the vanguard.
I believe in the rewards of risk, so I want to find the disruptors, the mavericks, dare devils, and trouble makers.
I've
been moderately successful discovering innovation, perhaps because of
my combined product development and corporate development experiences.
As in many business initiatives, there's a balance between the linear
and logical, the moving parts of the innovation "swing"
which we all focus on as combined parts of a hopefully smooth process.
This is balanced against the the artist's vision, instinct and freedom
to "grip it and rip it."
Looking
for "what's next" requires a perspective, a comfort with integrating
incongruent or even conflicting thoughts while examining data to
determine trends as signals of change aligning with your strategic goals
. It means you need to embrace linearity as well as being an
iconoclast, then combine it with a hard edged business perspective on
what can be pragmatically achieved, harvested. Harvesting, aka, "How one
can make money with this is?" is the lodestar.
Some call this "trend spotting"or "cool hinting."
I take my direction from Jan Chipchase  of Frog Design, an ethnograpic trend spotter at Frog who
I know. Jan approaches his work to creatively inform design and drive
innovation based on what he sees in the field as "meaningful" to humans.
I call this "Innovisioneering." 
Essentially it requires a pre-disposition to innovation, the ability to
identify what are adjacent opportunities in today's market as well as
identifying growing trends of humans--customers, consumers, call them
what you will, they're all humans. Then add the orienteering, the
"vision thing" to an ability to plan a path, engineer and execute a
strategy to harvest the opportunity. Hence, Innovisioneering = Innovation + Vision + Orienteering.
Good
"Innovisioneers" look critically yet open mindedly; spanning the
horizons for data, changes, feints and indicators of movement which
reveal a congealing consensus of value in the marketplace, meaning what they see around them and the identify as "meaningful."
Like good designers they see "what works," then wonder "what if's," figure out "what wows" then deliver "what works.
Sometimes
it is an implied demand, sometimes overt yet un-articulated need.
Sometimes technical advancements in other fields which can be combined
for value; sometimes direct epiphanies. Either way it requires an
intimate understanding of the end consumer behavior, the process of
serving the consumer, as well as the skills to operationalize
innovation.
Many people have an inherent fear of innovation: that's its too risky, sporadic and doesn't pay. In my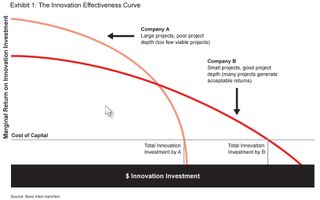 past I've been lucky to have been involved in real breakthroughs--SMS
interoperability and voice activated technology--so I have some practice
with tools to mitigate that risk and improve my batting average. Don't
be presumptive about what you see, unless the medium you are observing
is completely unsettled. In other words, any dynamic activity will
surprise you, so let it.
Conversely, you can't buy innovation.
Just spending more R&D leads to a waste of resources on increasingly
marginal projects. The solution to innovation anemia is not to boost
incremental spending, but to raise the effectiveness of base spending ' to increase the return on innovation investment, lifting ROI.
The Value of Innovation
The
trouble with innovation is today's business philosophy.  Modern
business thinking has led to the conclusion that organizations should
focus on what they do best: that is, the day-to-day money-making
activities that have won them their principal 'customer mandate'. For
most organizations - indeed, for almost all organizations - the most
sensible course of action is for them to stick to what they do best. And
only do that. After all, that is why customers come to them and are
prepared to pay them money.  Few major companies can afford to employ a
team of full-time innovators. Modern business thinking has led to the
conclusion that companies should focus on what they do best: that is,
the day-to-day money-making activities that have won them their
principal 'customer mandate'. I refer to this as the "Tyranny of the
Urgent."  The only thing that really matters are immediate problems.
Tactics drive strategy. I've seen this first hand.
But how should a
company pursuing a sensible policy of sticking to what it does best and
fulfilling its customer mandate deal with the danger that if it does
not innovate it may sooner or later lose its customer mandate to more
innovative competitors?
It can't. Companies that don't innovate die. Companies where tactics drive strategy die slowly.
While
successful innovation once was performed in sterile corporate R&D
labs, today the broad distribution of knowledge makes such a process
infertile. Competitive advantage comes from gaining vision, placing an
educated bet on what you see, and leveraging the discoveries of others
if your company is seeking new areas of technology or entering untapped
markets.
The mandate of innovation is to seek it out from all
sources, inside and outside of the company, connecting and developing
partners, suppliers and even co-opting competitors--the more
connections, the more ideas, the more solutions. That's modern
innovation. Look at IBM, Intel, and the revitalized Procter &
Gamble. They know "what's next."
A company's focus on innovation
should be outside-in, requiring a transformation of both external
perception and internal purposes, understanding what needs are to be met
and how to connect the dots between the company's capabilities and
competencies'a mix of existing business lines and recently acquired
companies'and bridging those to broader opportunities. In my view,
innovation should be obsessed with end-user consumers in the ever
changing mobile market, which can then be swiftly taken to full
consequence.
Building sustainable competitive edge in a period of
global competition is challenging corporations to utilize and leverage
all available resources, whether internally or externally sourced,
discovered or identified.
In Part 2 of Innovsioneering, I'll explore the critical aspects of the "Back End of Innovation", much of which will be covered at BEI, November 18 - 20, in Santa Clara.
I hope to see you there. Readers of this blog get a 15% discount on the conference fee, head over to the site, and look up and to the right for the link!
Paul Ruppert is a senior executive in the mobile industry having been responsible for new product
innovation, development and launch; revenue driving and globilizing markets within startups, fast moving large service providers and Fortune 50 companies. He's driven over $300 million in revenues over the last decade, and is a co-author of a patent enabling SMS to go around the corner or across the globe. He blogs at www.globalpointview.com and tweets @mobilepointview .  He is one of the "Official Bloggers" for the Back End of Innovation conference.