We are thrilled to announce FEI: Front End of Innovation, the world's leading innovation conference, is coming to Toronto this September 29-October 1st at the Ritz-Carlton. Join your innovation, R&D, product development and insights peers as they accelerate systematic innovation growth, from ideation to execution.
This year alone, over 1,100 of your innovation and R&D colleagues have already attended one of the FEI: Front End of Innovation portfolio of events in either Boston, Munich or Venice.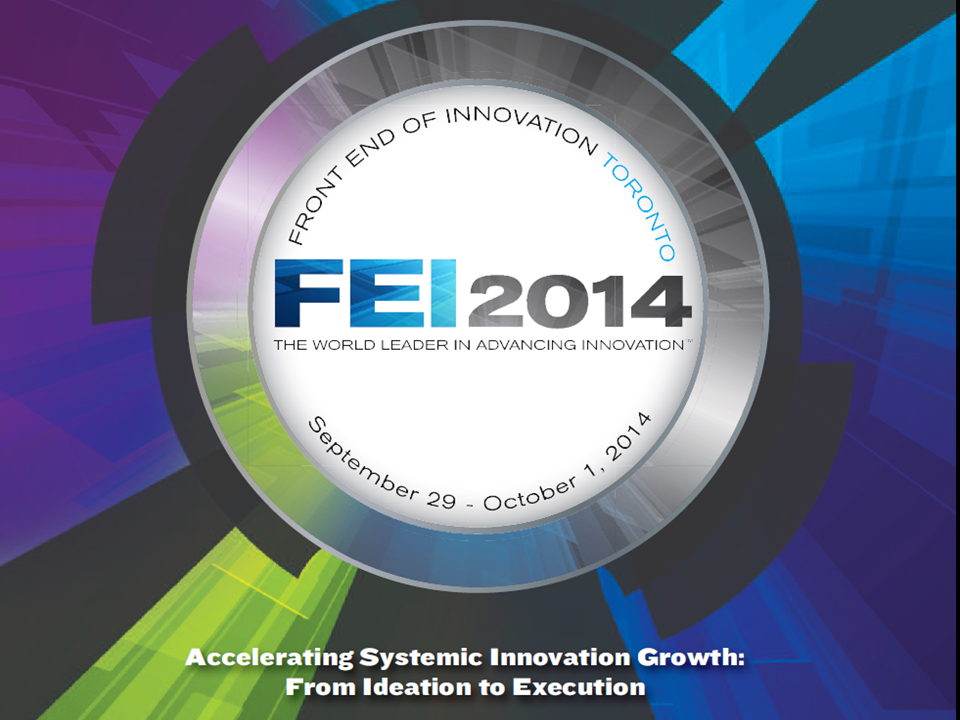 For 2014, we've added some can't miss elements to truly drive innovation implementation:
' EVALUATE with Front End and Back End BUSINESS CASES: allow you to learn by examples from others in the trenches to evaluate what worked, what didn't, and why
' CREATE with Collaborative LEARNING LABS: Mini innovation workshops create the ideal space to get hands-on and put innovation to work through interactive activities.
' EXPLORE with FIELD TRIPS: get outside the conference walls as you visit the HQ's of some of Toronto's most innovative organizations.
' Innovation superheroes keynotes include:
- Jeremy Gutsche, CEO & Chief Trend Hunter, TrendHunter, Author, Exploiting Chaos, and forthcoming Better & Faster
- Vijay Govindarajan, leading innovation and strategy expert, best-selling author, Thinkers50 Award Winner, and Tuck professor.
- riCardo Crespo, former SVP, Global Creative, Century Fox Film Corporation, Chief Creative Officer, TH13TEEN
- Gillian Ferrabee, Director, Creative Lab, Cirque du Soleil Media
And, Many more
Plus, Access to the North American Consumer Insights Event
At the intersection of consumer insights and innovation lies COMPETITIVE STRATEGY! In one venue you get access to two events and senior level executives from across the value chain. ONE investment gives you access to double the content, double the sessions, double the speakers, double the insights, double the value!
We want to personally invite you to join visionaries from across North America at the FEI Toronto event.