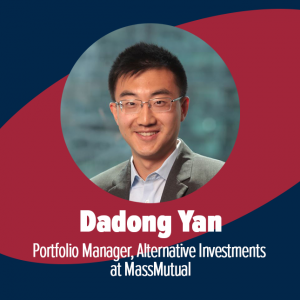 MassMutual's Dadong Yan walks us through the evolution of the role institutional investors have in the secondaries market and gives us a glimpse of what innovative partnerships could come into play in the future.  
Q: How have institutional investors participated in the secondaries market historically?
Historically, institutional investors such as insurance companies, pension funds, endowments and foundations, and sovereign wealth funds had limited direct involvement in the secondaries market, but rather participated in two main areas. First, institutional investors provided a large sourcing pool for traditional secondaries transactions given the need or desire of these investors to rebalance portfolios or sell a handful of fund interests. Second, institutional investors were a source of LP capital for many secondaries managers, providing the underlying dry powder to invest in the subsequent secondaries transactions.
Fast forward to the last number of years all the way to the present, many large and sophisticated institutional investors started building internal teams to capture secondaries opportunities directly. Clearly that is a well understood trend, with examples across investor types and geographic locations.
Q: How has that evolved over time?
Looking towards the future, institutional investors will continue to play a greater role in the secondaries market, except the avenue of participation will become more diverse. Many will continue to be LPs in commingled secondaries funds, while others will continue to pursue direct in-house strategies.
However, other institutional investors will take a hybrid approach and either partner directly with secondaries managers, or provide alternative capital solutions to LPs and GPs directly.
Q: What types of innovation can institutional investors bring to the secondaries market?
While I'm sure there is an abundance of innovation happening across the institutional investor landscape, there are two main categories to highlight.
First – institutional investors are expanding their direct capabilities beyond simply purchasing portfolios of fund positions. Many firms have developed internal capabilities to provide highly structured solutions tailored for each specific opportunity, including NAV facilities or preferred equity. Going forward, these transactions can help alleviate a funding or portfolio rebalancing issue, while allowing for the original owner of the fund interests to retain the relationship and exposure to the underlying GPs.
Second – institutional investors will deepen their direct partnerships with secondaries managers and other GPs across private equity, private credit, real estate, and other strategies. For example, an institutional investor can help inject capital at the fund level to augment the investable dry powder for either defensive or offensive purposes.
Furthermore, institutional investors can provide holistic solutions at the GP level to help asset managers grow their business, manage succession planning, or invest more in their own funds. While the nuances are abundant and the structuring is complex, bilateral partnerships between institutional investors and GPs will give rise to accelerated innovation.
To summarise, we are still in early stages of innovative partnerships between institutional investors and participants across the secondaries market. Many of these institutional investors bring not only a long-term stable source of capital, but also provide direct relationships, sector specific know-how, and structuring expertise to solve some of the most challenging questions facing the secondaries market.
 ---
Under the spotlight: Dadong Yan
Dadong is the Portfolio Manager of Alternative Investments at MassMutual. He is focused on bespoke investment opportunities and building strategic partnerships with alternative asset managers. Before joining MassMutual, Dadong was an investment professional with experience investing across the capital structure in both public and private assets at Blackstone, Altai Capital, and Coatue Management.