True innovation involves much more than just a great idea. It requires an environment that rewards risk and breeds creativity on a daily basis.
Do you have the courage to succeed? 
FEI US is the only event that is BOLD enough, COLLABORATIVE enough, VISIONARY enough, and INNOVATIVE ENOUGH for today's innovation and R&D leaders tasked with championing the environment for success in their organization. Download the brochure for full details.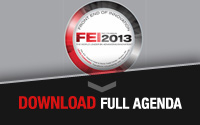 Walk away with the answers and motivation to lead your organization into the next 10 years.
' Creativity under pressure
' Finding your next trillion dollar opportunity
' Creating an environment that breeds innovation
' Business models that separate leading companies from followers
' Winning in the emerging markets
' Using design as a catalyst to solve complex problems
' Leveraging the customer voice to deliver breakthrough products
' Leveraging partnerships for bigger, better and faster innovation
' Predicting, planning and innovating for an unpredictable future
' Discovering breakthrough opportunities for growth
' Using portfolio management to strengthen decision making in R&D
It's not about where you've been, it's about where you are going. The Front End of Innovation 2013 will enable you to make that journey a great success.
Register by February 22 & Save $600 off the standard and onsite rate.
Registration Information:
Mention your FEI Blog Reader Code to save 15% off the standard rate: FEI13BLOG
http://bit.ly/155hFI9
Email: register@iirusa.com
Phone: 888.670.8200