Our book club is back with a new selection, author chat and a fun giveaway! This time we'll be discussing Killing Ideas: You can kill an idea, you can't kill an opportunity by Dr. Pam Henderson. 'After years as a professor and then as a consultant I have seen too much waste in innovation and growth efforts. We can't afford that, especially now. Organizations need a higher return on their growth plans,' said Dr. Henderson.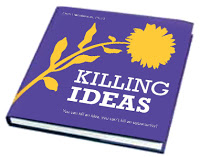 Killing Ideas: You can kill an idea, you can't kill an opportunity is smart, accessible and rich with unique insight. It's been called the most striking business and inspirational book readers will ever own ' visually engaging with 240 beautifully illustrated pages. In less than 300 pages, learn bold new ways to think about and seize opportunities.
Dr. Pam Henderson will be joining us in our Front End of Innovation LinkedIn Group on July 24th to answer any questions about Killing Ideas posed by you. You can post your questions in this thread, comment below or tweet #FEIBookClub to submit your question ahead of time.
About the Book:
So why kill ideas? Dr. Henderson demonstrates that ideas alone are failing! They promise growth but too often lead to products and services that don't deliver. The wellspring of BIG growth is opportunity; opportunity that comes by killing ideas as the starting place for growth and replacing them with the pursuit of opportunity.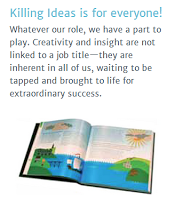 Opportunity thinking leads to growth and killer ideas
Opportunity thinking is a powerful approach that empowers us to see potential in new places'across markets, technologies, business models, brands, and design. Understanding opportunity informs, inspires, and generates big ideas that win.
Dr. Henderson weaves a story with examples from history, businesses, quotes and illustrations that provides readers with the inspiration and tools to pursue growth through a deeper understanding of opportunity. An understanding that leads to the insights necessary to build bigger ideas that will win.
Killing Ideas: You can kill an idea, you can't kill an opportunity features:
' Rich story telling with 30 historical examples from the age of exploration.
' Actionable insights from 70 cases across businesses and non-profits in every industry including consumer and industrial goods, food and beverage, healthcare, consumer electronics, sciences and more.
' World expanding with examples from over 50 countries.
Pam Henderson Ph.D. interview about "Killing Ideas" from NewEdge on Vimeo.
Pam Henderson, Ph.D., is cofounder and CEO of
NewEdge, Inc.
a growth, strategy, and design firm that delivers on new opportunities for start-ups through to Fortune 500 companies. Originally on the faculty at Carnegie Mellon University, Pam later worked with the national laboratory system and Washington State University to commercialize early stage technologies. She publishes widely on market insight, business and innovation strategy, and design. She has received recognition in Harvard Business Review, Wall Street Journal, NPR and speaks internationally.