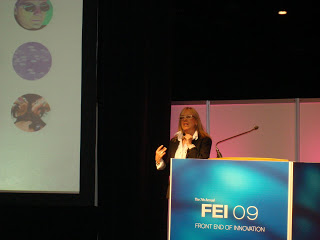 Jody Turner begins her keynote speech by describing that design elements should invoke the following:
- Experiences ' to share with others
- Invitation ' reaction to action
- MashUp ' shake it up
Through business we are designing new ways to interact with humanity. We are designing new trends to interact with community. Jody Turner gives an example of having worked with Gap. The old model was Have-Do-Be whereas the new model for Millenials has become Be-Do-Have.
Design needs to be clear and energized. We must think how we can have re-use in our products especially with the concept of green being popular. From now we have moved from 'Me' to 'We' Companies are going to need to link their products to something of value, like Ethos for example.
Give the consumer many energized way to engage with you, multimedia network is really important. Networks should include newsletters sent via sms and email, reviews, talks, and showcases. We are going to be going around the world and seeing what types of natural products we can use. Intel, Dell, Toyota, and Gap have been giving consumer voice. Jody gives an example of how Scion has created a contest online where consumers can create their own crest symbol.
Jody concluded by giving a great example of a video created for AARP that incorporates many of the design elements using the young generation. Here it is below:
Updated: Here is a short clip from her Jody's keynote presentation: