Jaya Kumar, is President of the Global Nutrition Group at PepsiCo, "the entity dedicated to driving the global growth of PepsiCo's nutritious food and beverage businesses from $10B to $30B by 2020.

As President of GNG, Mr. Kumar directs a global team of nutrition platform leaders, innovation, branding, customer and partnership experts strategically focused on delivering business growth by delivering good nutrition to markets around the world around four key category areas: fruits and vegetables, whole grains, functional nutrition and dairy.
The portfolio of global brands under Mr. Kumar's direction include Tropicana, Quaker, Lebedyansky, Naked, Alvalle and the recently acquired food and beverage business, Wimm-Bill-Dann (WBD) in Russia among others."
So how does one achieve transformational growth at a global company that already has $63 billion in sales and over 285,000 employees?
At the Back End of Innovation Conference taking place on October 17-19, 2011 in San Diego, California, Jaya Kumar will present Developing a New Model for Innovation and Growth, where he will discuss how the team he leads is creating a new global constant for innovation and growth.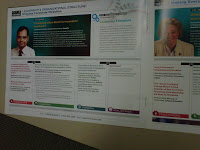 For an in-depth description of his session at the Back End of Innovation Conference:


Download the brochure here or
visit www.backendofiinovation.com for more information.