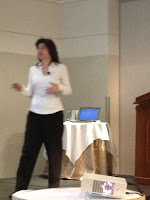 Alicia Z. Rankin, Director of Research and Fan Insights, National Football League, spoke about the an experience in a full stadium that cannot be replicated (not even on television). Intense, meaningful, unifying - that is the mission.
Voice of the Fan Research Overview
General admission, club seat holders, suite holders, single game buyers, competitive analysis, operations, and entertainment & technology all are evaluated.
Focus of Study:
Club focused areas
Game Day factor analysis, what's driving people
parking
wi-fi
Pre-game fan entertainment
League Focused areas
Eliminate information, content and tech gap - make it unique, don't replicate
Locker room cam, referee cam
Reduce pain points - parking lots
Deliver enhanced entertainment, moments, ritual - terrible towels
Re-invest to protect the core
Market the in-stadium experience
Most research is done via online surveys to fans on the lists, one survey per season per guest.
About the Author

Valerie M. Russo, Social Innovation Lead, Senior Strategist at IIR USA, has a background in technology, anthropology, marketing and publishing.  Russo has worked in a variety of digital media roles at Hachette Book Group, Aol, and Thomson Reuters. She is a published poet and maintains a literary blog. She may be reached at vrusso@iirusa.com. Follow her @Literanista.