This morning in the Ideation and Collaboration Summit at the Front End of Innovation 2013, Delony Langer-Anderson, Advanced Product Development Specialist, 3M Consumer Health Care Division and Cristin Moran, Platform Development Specialist, 3M Stationery & Office Supplies Division, spoke about a prototype contest that 3M ran to find a consumer solution.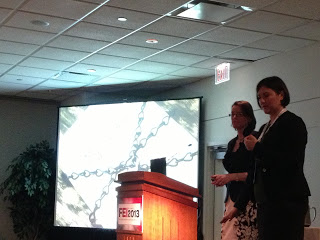 The Stage Gate Process
Idea
Concept
Feasibility
Development
Scale Up
Launch
Culture of 15% has been at 3M for 60 years now. No one can ever deny your need for help. What cultural levers can you pull when you want to innovate at your company?
What would upper level management get excited about? They would be able to shrink the idea/concept/feasibility time into 6 weeks with this prototype contest, cutting the time in half.
Next they thought about all the people who they would need to say yes and who would be the toughest person to sell. They leveraged competition between divisions to "siphon" talent through this collaborative competition.
The  prize had to be brag-worthy not a door prize so they wanted to give away a trip any where in the world to visit another 3M office, where as they ended p giving away a cash prize to split between teams..
In order to enter the contest, employees had to submit a pre-patent or invention submission. They didn't want more ideas, ideas are a dime a dozen. They set up a SharePoint site for entries.
You have to believe that every single person in your company not just the scientists or engineers has something, a gem, to offer.
In the end, 47 prototypes were delivered and now they had to be judged and given their due diligence.
They fell in love with all of them but narrowed it down to 12, which 3M experts narrowed to 6, then 4, then 2 grand prize winners and two runners-up. All participants were acknowledged and recognized, given certificates and invited to a grand party.
About the Author


Valerie M. Russo, Social Innovation Lead, Senior Strategist at IIR USA, has a background in technology, anthropology, marketing and publishing.  Russo has worked in a variety of digital media roles at Hachette Book Group, Aol, and Thomson Reuters. She is a published poet and maintains a literary blog. She may be reached at vrusso@iirusa.com. Follow her @Literanista.