Meet Exotyhiraika: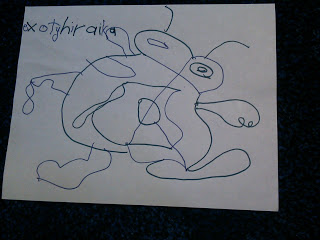 My partner and I drew it one line at a time, each of us having no idea what the other had in mind, but both of us had a supporting mentality and the expectation that we would develop something fun and interesting.  Such is the power of improv, and Michelle James has a fun and fascinating way of teaching it to people.  Though the event was originally limited to 80 people, such an incredible crowd showed up that Michelle was asked to do a second session later in the day.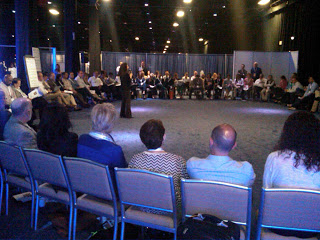 "Improv is all about breaking patterns"
When people engage in improv, they are able to break their patterns and start creating new and unexpected results that they build from the ground up through the principles of improv, namely presence, adaptivity, agility, and spontaneity.
But, one of the most important lessons of the day was treating every contribution as a gift and using it to make the other person look great and serve the good of the group.  In exercise after exercise, it was astounding to see what kinds of incredible results emerged when working with people who are advocating for mutual success.  Likewise, we learned to follow one of Michelle's key bits of advice:
Give someone an offer, and accept his/hers, even if it is disruptive.  Receive whatever is shared with you as a gift, and add something to it.
Imagine what you can create by following that advice and harnessing the principles of improv.
For example, Michelle described a consulting gig in which she went into a company and helped them to design a product bit by bit, and then to describe the potential features of the new product bit by bit.  The result was highly innovative, and the company made a powerful success out of the session.
Of course, there is only so much one can say about an experience this rich and inspiring.  You have to
try it for yourself
!  In the interim, you can 
read
 about it.
Orin C. Davis is a positive psychology researcher and organizational consultant who focuses on enabling people to do and be their best.  His consulting work focuses on maximizing human capital and making workplaces great places to work, and his research focuses on self-actualization, flow, creativity, hypnosis, and mentoring. Dr. Davis is the principal investigator of the Quality of Life Laboratory and the Chief Science Officer of Self Spark. (@DrOrinDavis)