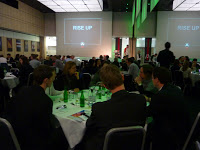 A Challenge 'How do you create Buy-In'? facilitated
by Seek, Inc., has just been started as an interactive group session. The task is
to identify the essentials and to develop a strategy of how to get buy-in for
new ideas. 
The challenge will be run as team competition in a self-organized
manner and last until tomorrow. 
The final results summarized in a joint
casebook will be presented tomorrow by the teams to nominate the winners.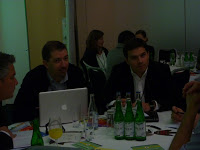 In the
first step the audience has been asked to discuss principles of Buy-In in
smaller break-out groups and propose them afterwards to the plenum.
Examples of
first ideas regarding identified principles to get buy-in as a starting point:
 An easy start
Self-esteem
A convincing Elevator pitch
Data and evidence
Relationship and emotion
A great Story
Adapt your message to the audience
Common beliefs...
Further updates of the discussion will follow.
About the Author:
Frauke Lohr is running her own consulting business named Comsciencia, targeting customers from industry, academia as well as politics with special focus on innovation topics. She is currently attending the 6th annual Front End of Innovation EMEA in Z'rich, Switzerland on February 27-29, 2012, and covering the event live via the FEI Blog and Twitter.