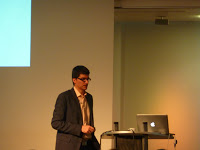 Alexander Osterwalder, Author, Expert in
Business Model Innovation, asked himself the question in the past: Could there be a any shared
language in order to create business models?
Everybody uses
the same term business model, but once you dig deeper you realize that everybody
uses a different definition. This has been demonstrated by interacting with the
audience.
Therefore
Alexander Osterwalder developed the Business Model Canvas as visual answer,
which consists of 9 Key Building blocks, namely: Key Partners, Key Activities,
Key Resources, Value Propositions, Customer Relationships, Channels, Customer
Segments, Cost Structure, Revenue Streams.
Nespresso is
an example, who sell coffee machines via retailers, which can only be used with
their specific coffee pads later on and which they have protected with their
own patents. Afterwards you can buy the pads via their own sales channels. Today
they transfer their strategy to baby products and tea. While Nespresso is a very
a successful company nowadays, they have almost failed in 1987 due to a wrong
business model with the same product.
The
elements of the business model fits all on one page, a copy has been
distributed to every participant of the conference. Within 8 minutes the participants
had the chance to give it a try reflecting their own situation. Two rules were
given before: Write elements on post-its, never use the template directly template;
don't make listings on each post-it.
Regarding
the Strategy there can be found different levels-
Level 0 ' a strategy like a parcel, you don't know what's inside.
Level 1 - Beginners, who treat a strategy like a checklist
Level 2 - The Masters of Business Model Innovation, e.g. Nespresso, Nintendo;
all elements fit together.
Level 3 - The Invincibles, e.g. Amazon, allowing also competitors  to sell books, now selling infrastructure ; Apple,
who disrupted themselves to create entirely new business models.
Existing
vs. new business models- you can do incremental innovation to improve the
business models while at the same time still earning money. Or you can come up
with a new business model- what you really need to do is experimentation
instead of writing business plans and planning budgets. In the web people are asked
about products that don't even exist and they provide as potential customers immediate
feedback. But in big companies usually the space doesn't exit to do both, incremental
and disruptive change
About the Author:
Frauke Lohr is running her own consulting business named Comsciencia, targeting customers from industry, academia as well as politics with special focus on innovation topics. She is currently attending the 6th annual Front End of Innovation EMEA in Z'rich, Switzerland on February 27-29, 2012, and covering the event live via the FEI Blog and Twitter.