Elke den Ouden, Author and Senior Consultant, working for Philips, started here
presentation with an overview on Philips, which is focusing on Healthcare,
Lighting and consumer lifestyle.
She
described an ongoing Paradigm shift with the society moving into
transformation. More and more managers and entrepreneurs try to combine making
business and at the same time creating a better world.  So the context of business has changed over time.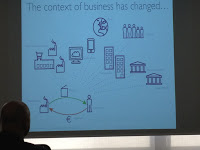 "Good solutions
create value for people, organization and society', which is also the title of
her book that has been recently published. She presented an onion model
covering putting into consideration different stakeholders and different
levels. Meaningful innovations would connect the different levels and add value
there. There is still room left with white spots for new opportunities.
She also
presented examples from her work at Philips, e.g. an Ambient Experiencehospital lab. Another example for designing an ecosystem was about Dementia;
98% of the carers of dementing persons suffer from physical and emotional
problems and fatigue. The initial value proposition of Philips was in redesigning
lighting solutions for institutionalized care to improve the mental state of
people with dementia significantly, but the question came up, what to do prior
at home to stabilize the situation there already? As a starting point to
explore more opportunities in that area for Philips Elke van Ouden presented a
mapping to better understand the patient journey as well the stakeholder
environment.
About the Author:
Frauke Lohr is running her own consulting business named Comsciencia, targeting customers from industry, academia as well as politics with special focus on innovation topics. She is currently attending the 6th annual Front End of Innovation EMEA in Z'rich, Switzerland on February 27-29, 2012, and covering the event live via the FEI Blog and Twitter.