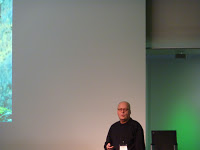 Alberti Alessi, President, Alessi s.p.a. is a real
storyteller, who shared some fancy pictures from his colorful world of Design to
give an idea of where and how he generates his ideas to enhance his impressive
product portfolio.
Having just passed his legal exams one day prior, he entered
his father's company in 1970, delegating the Design Management and bringing in
new and fresh ideas and creativity.
When
being asked by a participant about how he gains customer intelligence he just
says: it's me!
Tidbits via Twitter:
"we believe that design is a new form of art and poetry, very typical of our times"
"Be passionate about your own products"
"The customer doesn't influence the designer, but the designer will influence the customer."
"The ethos of Italian Design Factories, says Alberto #Alessi at #FEIEMEA - functional AND poetic"
" Functional Value + Status Value + Poetic Value: Dreams and not just needs"
"How to get the consumer to make make the product (creative solution to high production costs)"
" Making kettle music with an Italian touch and German design inspired by art by Alessi ow.ly/i/tVbO"
Frauke Lohr is running her own consulting business named Comsciencia, targeting customers from industry, academia as well as politics with special focus on innovation topics. She is currently attending the 6th annual Front End of Innovation EMEA in Z'rich, Switzerland on February 27-29, 2012, and covering the event live via the FEI Blog and Twitter.