As part of the Design Therapy: Enhancing Lives... Improving Business Track at the Front End of Innovation EMEA today, Pamela Mead, Director of User Experience at Telef'nica Digital Services presented some of the challenges of her journey.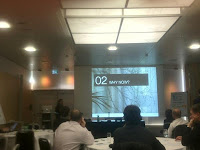 Telefonica designers grew by 18 new members last year in spite of Spain's economy and they are representative of 8 countries. They work on global 30-40+ initiatives a year.
Starting with no design culture lead to Mead being able to create the culture from Scratch. No preexisting notions to block the path to organization.
Prepare the organization, explain the value of the cultural changes needed and why, get buy in from the top down.
Where do you live within  strategy and visibility of organization?
Mandate to change is crucial within your organization - no debate.
Customer-driven innovation= understand what matters, make it real, make it happen.
Storytelling culture at Telefonica, a digital service provider, they use every medium to narrate and express their ideas. Drawing on paper is less costly and faster than any other medium at times.
Best practices for producing quality resources; hire the best people, have a mandate, change is by doing, empower, build an inclusive culture, bring different stakeholders together - have a space for them, engage, lastly, be accountable.
One of the biggest challenges is scaling and delivering. The dip down is much faster than the rate of innovation.