Nicola Dallatana, Director of Regulatory Affairs, Europe at Segway asked us what if they had invented the bicycle instead of the Segway?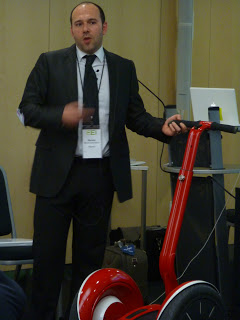 What do you when you have to sell something that has never existed before?  How do you sell a computer on wheels? It's not a car, it's not a bike... The technology is completely new.
Last ten years, Segway has been on The Simpsons. Justin Bieber has used one.  Even Chimps have used one. But this exposure didn't help with consumer pickup.
Instead Segway has partnered with airports, security, malls and gained traction with innovating the reach of  taxpayer's money.
Helping first responders get places cars can't.
Only 5% of users are mobility-challenged people.
The cost of new technology is an issue as made obvious from Google's powered search results so they skip dealers and go to direct sales.
Pay attention to self balancing technology - it is sure to be disruptive in the future.