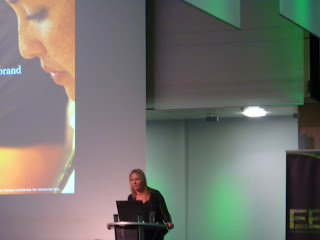 Jean-Marie Shields is Global Brand Director at Starbucks Coffee Company, today she spoke about bringing
Humanity in Every Touchpoint of Your Brand.
She shared with us some of the changes and case studies that happened behind the scenes at Starbucks.
Brand Evolution/Innovation
Revamp brand strategy: expression, mature and emerging markets, global and local, evolving business model
What has changed in the world that requires your brand to evolve?
A Shift from the "Me" world to the "We" world
From "brand" to "community"
Glocal
One size does not fit all anymore
Consumer's individual preferences should be embraced and their choices should be celebrated as extraordinary.
Humanity
Starbucks just needed to find it soul. First thing they did was change the logo.
Valerie M. Russo is a Senior Social Media Strategist at IIR USA with a technology, anthropology, marketing and publishing business acumen.  She will be attending the 6th annual Front End of Innovation EMEA in Zurich, Switzerland on February 27-29, 2012, and covering the event live via Twitter and the FEI Blog. She is a published poet and also maintains a literary blog. She may be reached at vrusso@iirusa.com. Follow her @Literanista.