In the first part of the presentation Elli Verhulst, Researcher and Lecturer from Artesis University College
Antwerp, described that there is really a change towards sustainability,
and there is in the meantime more potential for it coming up.  But one key question is: How can
sustainability be implemented in the design innovation process? The challenge there
is going from theory into praxis.
Success factors and obstacles are mentioned in literature, but there has
not been a lot of research on the human factor. 
Therefore she was focusing her work on looking for patterns of the
implementation process and how it is influenced by the human factor in an
empirical study. Two patterns have been identified, a kind of bottom-up as well
as a top-down approach.
The following 4 human factors were identified and outlined:
Resistance against change
First this didn't really seem to fit, since there was always a lot of
enthusiasm at the beginning, but after a while resistance occurred since people
realize that they need to change their behavior though the resistance is not
related to sustainability.
Communication on
changes
Three types of communication were found: Communication on process support,
information gathering as well as spreading and empowering people.
Empowerment and
involvement
Sustainability often starts as an initiative of individuals like strong believers,
based on personal belief. It usually stays small scale; to spread it in the
company you need management support.
Organizational Culture
The adaption of approach for the implementation process she described as an
adaption to culture and less adaption to needs of sustainability.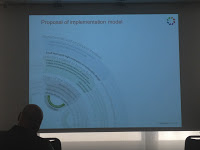 At the end of her presentation part Elli Verhulst proposed an implementation
model with 3 main circles including 1. stage of implementation process, 2. activities
related to human factors and 3. departments and employees involved (see left).
In the second part of the presentation, Eric Pass, Director and Member of the BOD, Corporate Planning and
Communications at Nitto Europe NV, presented a business case.
Nitto Europe NV
is part of a Japanese company with approx. 33.000
employees, 5.5 bn ' annual turnover and about 13.500 products for ca. 70
industries.
Nitto Europe's Vision for 2012 has been created in 2008:
REACH 2012 as a clean, green and healthy company, 20% turnover to be achieved
by 12 Green Value products. The REACH directive in Europe was chosen to be
recognized as opportunity to innovate. To realize
'Cradle-to-Cradle'
was the
goal. For each element of the cradle-to-cradle concept concrete objectives for
the company were identified.
Three examples regarding the focus of Nitto Europe's Sustainable
Development were presented.
Example 1: 'Light weight' functional materials for cars
Example 2: Bio-based Adhesive Tapes that are completely biodegradable
Example 3: 'End-of-Life'-functionality to deal with waste from old mobile phones
to recycle assembled phones. The idea behind the last is a closed loop
(re-)manufacturing, working together with Philips and others; a different business
model needs still to be created.
About the Author:
Frauke Lohr is running her own consulting business named Comsciencia, targeting customers from industry, academia as well as politics with special focus on innovation topics. She is currently attending the 6th annual Front End of Innovation EMEA in Z'rich, Switzerland on February 27-29, 2012, and covering the event live via the FEI Blog and Twitter.