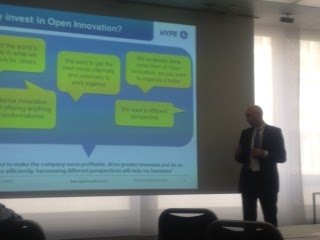 Open Innovation - The New Way of Working presented by Dietmar Breyer, COO at HYPE covered...
' Finding new ideas using inside and outside parties
Myths:
End consumers are a valuable resource for ideation.
Lawyers are a roadblock to open initiatives.
' Choosing the right audience and type of participation
Factors: Vested interests, Quality of relationships, Model of engagement, commercial considerations.
' Extending innovation workspace by agile ideation software use
' Behavior and its impact on running ideation campaigns process will bring rewards
Build a roadmap, internal test drive, outcomes...
Have the sequence in place, measure success of objectives with a matrix, examine outcomes and repeat for sustained innovation.
More case studies here.
Valerie M. Russo is a Senior Social Media Strategist at IIR USA with a technology, anthropology, marketing and publishing business acumen.  She will be attending the 6th annual Front End of Innovation EMEA in Zurich, Switzerland on February 27-29, 2012, and covering the event live via Twitter and the FEI Blog. She is a published poet and also maintains a literary blog. She may be reached at vrusso@iirusa.com. Follow her @Literanista.