Why is there not enough innovation in our portfolios?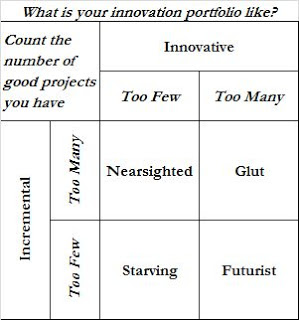 Short-term view -- drive for short-term results
Risk aversion -- which is riskier -- not to have enough innovation projects...or too many? 
Innovation is too expensive 
Incremental steps are easier 
Poor corporate strategy 
Lack of innovation goals 
We tend to have a heroic model of innovation, and while it does take a hero to make innovation, this idea is disempowering. The reality is that innovation is more like peasants fighting: a six-way scrum. It's disorganized, and it's chaotic, but Matheson asks an important question: how do you manage chaos?
The first answer that most people suggest is to plan. There is nothing wrong with planning, but plans tend to be incomplete. Another answer is to consider the reasonable expectations, but innovative products often far-exceed reasonable expectations.
Matheson's answer is a four-step process that is clear enough to manage, but open enough to give space for the chaos of a scrum: Ideate, Formulate, Incubate, Accelerate. It is analogous to building a nest, finding the golden egg that will sprout a viable hatchling, incubating the hatchling, and making it soar.
1) IDEATE -- Find committed innovators: Who is going to build the nest?
"People think ideas are the input of the process. This is wrong. Ideas are the byproduct of the committed innovator." -- Alberto Savoia (formerly of Google) 
Your innovator needs actionable insight, but the key is the people! 
2) FORMULATE -- Aligning on a learning plane: Which egg is your golden egg?
It's all about learning. In an environment where you don't know, plan for learning, not for execution. To that end, use multiple strategies to learn which is best, and reformulate as you learn. 
Innovating is about changing the rules, which can be difficult and costly, so dream big enough to make changing the rules worth it. Don't dilute or dumb-down ideas just to make them more understandable and implementable -- dream big and change the rules! 
There are going to be a lot of uncertainties, but which uncertainties actually matter? 
3) INCUBATE -- Getting a hatchling: A proven opportunity
We need to differentiate between what needs work and what needs proof. What tend to be the biggest sources of risk often turn out to be solvable with work. The key, then, is ascertaining that the innovation will actually be used (proof). One of the most important aspects of this phase is figuring out what needs proof, and building on them. Use small experiments to get evidence, and then keep reformulating. 
Fall in love with your opportunity, not your ideas. It takes a committed innovator to do this! 
4) ACCELERATE -- Make it soar
Think of the launch as Product 1.0; innovation does not stop with the launch. 
Innovation needs to grow up, and if you throw it in the deep end right away, it is not going to swim. 
By using this framework, a company can create a flexible space for chaos that can guide innovation from a random idea to a world-changing product.
Orin C. Davis is the first person to earn a doctorate in positive psychology. His research focuses on flow, creativity, hypnosis, and mentoring, and it spans both the workplace and daily life. He is the principal investigator of the Quality of Life Laboratory and a freelance consultant who helps companies maximize their human capital and become better places to work.