Gordon Jones, the Director at Harvard Innovation Lab, believes every student should have the opportunity to put their ideas to use and push them as far as they can go. Innovation flows from many fields and the intersections can lead to all sorts of great innovation.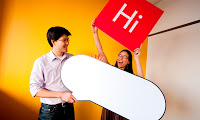 They work with students at every stage of the innovation pipeline: Idea refinement through scaleability and also helps them become agents of change.
The program includes:
Incubation and mentoring
Internship and residency
Laboratory and practicum
Entrepreneurship fundamentals
I-lab strives to fun, purposefully fun.
The Harvard Innovation Lab opened 8 months ago. You can follow them @innovationlab.
Valerie M. Russo is a Senior Social Media Strategist at IIR USA with a technology, anthropology, marketing and publishing business acumen.  She is a published poet and also maintains a literary blog. She may be reached at vrusso@iirusa.com. Follow her @Literanista.