In 2020 BC (Before Covid-19 era) we thought everything was normal in the world. But during the current 2020 Covid-19 global pandemic lockdown, the world is undergoing a VUCA (Vulnerability, Uncertainty, Complex, and Ambiguity) moment of adversity. The crisis forces the world to change, disrupts businesses, and challenges our beliefs and biases. In the absence of a vaccine, maintaining physical distancing and isolation seems to be one of the best ways to combat Covid-19.
During the crisis, agility, resilience, and adaptability will become increasingly important for personal and business growth. To understand the importance of these characteristics, we can learn from nature which uses strategies to deal with crises almost every day. I look to one of nature's most resilient creatures, the lobster, for inspiration. Since a lobster's outer shell is hard, over time it constrains its growth. If it doesn't shed its old and undersized shell often, it can't grow and may eventually die. In order to grow larger, the lobster moves towards the bottom of the ocean, anchors itself between rocks (like lockdown) and sheds its old undersized shell. During the transition to a new shell, the lobster is vulnerable (as are we) to predators and the environment. Despite the risk, the lobster with its agility and resilience nature repeats the shedding process multiple times during its lifetime. It risks its life to grow bigger and stronger and persevere through VUCA moment of adversity.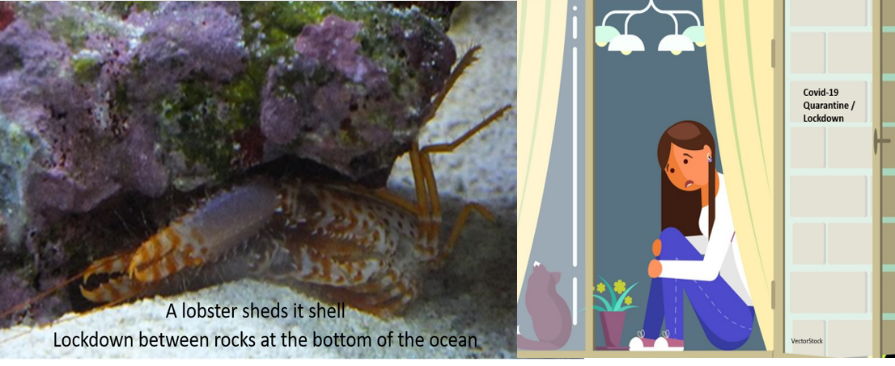 In the 2020 BC era the excuse we hear most often is "I didn't have time. I was really busy every month". But during this Covid-19 lockdown or isolation / quarantine period, we have a window of quiet, isolated time in which we should think of ourselves as lobsters sitting between rocks and shedding our shells. The shells we carry with us are old cultural practices, attitudes and behaviors, biases, beliefs, habits, knowledge, skills, and experiences which may no longer be productive or useful in the upcoming 2020 AC (After Covid-19 era). We should first step back and question what are we absolutely sure is true or what we think and know are still valid, and whether what we have done until 2020 BC will continue to make sense moving forward. We must develop a disruptive strategy (new shell) to protect ourselves from becoming vulnerable to the pull of (predators and environment) complacency, culture and competition traps.
We need to generate our new shell made of innovative culture, strategy, technologies and disruptive business models. We must find new ways to escape away from our old unproductive shell made of the status quo, micro-inequity, biases and potentially outdated mental maps of best business practices.We must make use of this pandemic lockdown / quarantine period as an opportunity to shed unproductive things (old shells) we carry and embrace changes with new shell made of innovative culture, technologies, practices, inclusive thinking, habits, skills, experiences and ideas. Only after this we can step into the new 2020 AC era with more confidence. "If we can't change and transform, we can't grow and progress, and we can't be competitive."
In 2020 AC there will be a paradigm shift in most of the things we knew and did in 2020 BC. We will no longer grow and be competitive if we try to do no more than just return to normal. The lobster never returns to normal and the normal we knew no longer exists. There is no such thing called "old normal or new normal". Instead of preparing to go back to old normal or new normal, we must be continuously preparing to brace ourselves for a new reality with constant change, technological transformation and adaptation in every aspect of our personal lifestyles    as well as business practices.
The lobster teaches us that in order to progress and grow, we need to be agile and resilient, and embrace the risk that comes with change. This learning is not only applicable for any individual but also society, organization and even nation. I think the world is naturally using "agility, resilience and adaptability" as driving forces for navigating through the Covid-19 pandemic moment of adversity. Let us have faith that everything will be ok at the end and the world will emerge stronger than ever before. But at the same time, we must treat Covid-19 adversity as our advantage and prepare well for the worst.
What habits, biases and behaviors you let go, and what new skills, habits and behaviors you pick up during this Covid-19 lockdown? Would love feedback.
Learning Objectives:
How to overcome challenges with agility and resilience
How to achieve success and overcome difficult obstacles
How to navigate crisis at the same time achieving goals
How learning from adversity can create growth opportunity