'Love
Is The Answer'


Engaging
your own Associates to be your Best Brand Advocates



An
Institute for Employment Studies reports that organizations increasing
investment in engagement by just 10% can increase profits by approximately
US$2,100 per employee, per year. Engaged employees are far more likely to put
in the extra effort when dealing with customers, working on projects, and
adapting to the changes affecting all organizations today.
Building
engagement, Brand love, and Advocacy among your workforce is a challenge that
Coca-Cola has taken on, with its 'Coca-Cola Ambassador' program. 
Christy's
presentation will discuss the opportunity for organizations to build internal
engagement programs, as they build their business, it will briefly review the
Coca-Cola Ambassador program and its outcomes, as well as offer insights
on; 
Understanding the business case for Employee Engagement
Some practical examples from a successful program
Tips for developing a program for their business/market
The case for engaging your employees to tell your story.
What is so innovative about love? Love is the most motivating and epic emotions
that any of us will feel.
Because we live in an increasingly disengaged world, love
matters more. This symptom hits the workplace harder than anywhere else.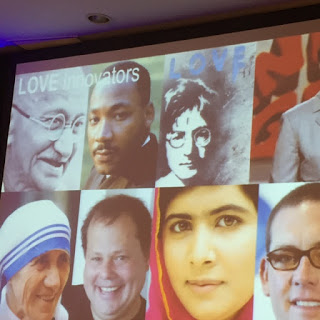 There is a real cost to disengagement. $350 Billion dollars
hits the economy because of disengaged U.S workers each year. How can employees
be innovative and inspired if they are not engaged?
Why we feel disengaged? Here are the major loses:
'     
A lack of respect
'     
A lack of connection to company goals
'     
A lack of positive leadership
'     
A lack of training and career opportunities
'     
A lack of appropriate pay/benefits
There has to be a North star, a way'and it must be
communicated.
So, what can we do about it? Here's what Coke does. First, it
declares that love and pride are its foundation.
While the Coke brand is loved, our associates need to feel
love, too. 'Being told you're appreciated is one of the most simple and yet
incredibly uplifting things you can ever hear.'
Harvard Business Review says appreciation is the 'single
higher driver of engagement.'
Where does love and appreciation start? It comes from pride,
genuine pride in your brand and company.
When associates feel love and pride they'll share the brand
story. Think about Coke. 'We have 700,000 associates. If each person talked to
300 Facebook friends, they would touch 210,000,000 positive messages in the
world. That is a movement.'
What is Coke's love story? 'Refresh the world, inspire
moments of optimism and happiness, create value and make a difference.'
Let this question linger: What is your company's love story?
Can you name it? Then once answered, what programs do you have in place to tell
your love story?