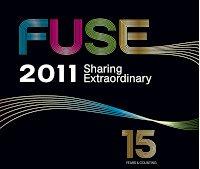 FUSE 2011 will share stories of extraordinary inspiration and so much more. It will help you get business done - through the most recent and actionable case studies and opportunities to make the key connections that will drive your business forward. Hear from these brand powerhouses as they share their most successful stories of design, branding, packaging, and more.
FACEBOOK
Ship It: How You Can Use Facebook's Design Approach to Change the World
- Ben Blumenfeld, Creative Lead, Facebook
TARGET'S OWN PRIVATE BRAND
Giada De Laurentiis for Target: The Building of a Brand
- Fiona Mitchell, Creative Visioneer and Michelle Mesenburg, Marketing Director, Target
COCA-COLA & TURNER DUCKWORTH
A Good Design is Only Half the Battle
- David Turner, Co-Founder, Turner Duckworth and PioSchunker, SVP Creative Excellence, Coca-Cola North America
And those are just a few of over 50 sessions for you to choose from at FUSE.
To see all of the FUSE 2011 sessions, download the Brochure.