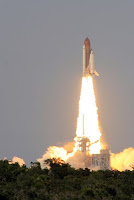 FEI TV Explores Mission Critical Failure-Innovation Connection
By Marc Dresner, IIR
The 50th anniversary of John Glenn's historic Friendship 7 flight and NASA's FY 2013 budget request, respectively, put the spotlight back on space exploration in February.
But as many Americans fell prey to an acute breakout of space fever, some long-standing, difficult questions yanked imaginations back to earth: Notably, what's an acceptable tolerance for risk when human lives are at stake?
Critics have argued for years that NASA has become so risk-averse that the only thing it is willing to risk is irrelevance. Meanwhile, aspiring carriers like Virgin Galactic draw increasingly close to making commercial space travel a reality.
Wherever the line is ultimately drawn, you know there's some truth to the charges when one of the very people on whose behalf the agency adopted a decades old culture of extreme caution agrees that the space program should take more risks'albeit within reason.
Dr. Charles Camarda'a former astronaut who's been to space and back'insists that even when it comes to human space flight, the Apollo 13 adage Hollywood attributed to NASA Flight Director Gene Kranz, 'failure is not an option,' is a policy lemon.
'If you're not pushing the boundaries, if you're not failing, you're not doing your job,' Camarda, now Senior Advisor for Innovation in the Office of the Chief Engineer at NASA's Johnson Space Center, told FEI TV.
In this exclusive interview with FEI TV'the official streamcast network of the Front End of Innovation conference and exposition'Camarda discusses:

- Praiseworthy failure and permission to fail
- Why small teams are better suited to accomplishing feats of innovation than large organizations
- The necessity of challenge and a shared, higher purpose
- Teaching NASA engineers to create fluid, virtual networks of multi-disciplinary experts built around a specific, major problem
- How the lessons learned are being applied in exciting ways to education at the collegiate and high school levels'
And more! Watch this episode of FEI TV and subscribe here!


Editor's note: FEI TV is produced by the 10th Annual Front End of Innovation conference and exposition taking place May 15-17, 2012, in Orlando, FL.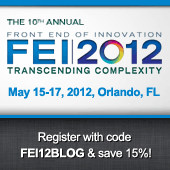 For more information or to register, visit www.frontendofinnovation.com.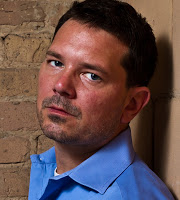 ABOUT THE AUTHOR/INTERVIEWER


Marc Dresner is IIR USA's sr. editor and special communication projects lead. He is the former executive editor of Research Business Report, a confidential newsletter for the market and consumer research industry. He may be reached at mdresner@iirusa.com. Follow him @mdrezz.