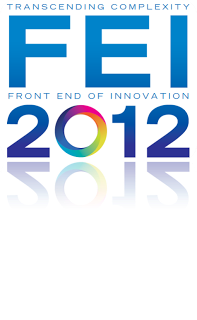 Here's the  the top 10 reasons to joins us at our 10th
anniversary event:
1.         No Repeat
Performances.  The FEI main conference features 100% new speakers. No
repurposed content.
2.         Keynote
Provocateurs: The best FEI keynotes yet deliver expertise through storytelling.
'        
Chris Anderson, Editor-in-Chief, Wired Magazine, Author, The
Long Tail
'        
Phil Duncan, Global Chief Design Officer, Procter & Gamble
'        
Jeff Dyer, Author, The Innovator's DNA
'        
Michio Kaku, Famed Futurist, Physicist, and TV Personality
3.         6 Conferences
in One: Benefit from the main conference plus either 4 full-day Monday Summits-
the Annual VoC Summit, the Annual Portfolio Management Summit, the All New
Trends & Technology Summit, and the All New Co-Creation Summit; OR the Full
Day Workshop on A Universal Framework for the Front End of Innovation.
4.         Stories that
Will Inspire You: Hear from innovators like Brian Hart, who lost his son to a
roadside ambush in Iraq, and created an affordable robot that defuses bombs so
the troops don't have to. The result? Popular Science's 'Best of What's New'
and 'Top 100 Innovations of the Year'.
5.         Make
Meaningful Connections: Last year, we had 75% of participants coming from the
client side, making the connections and story-sharing that much more valuable.
6.         Dissolve
Boundaries between Speakers and Attendees: Choose from 8 different learning
formats that encourage interactivity: FIRESTARTERS, CHAMPIONS, STORYTELLERS ,
FISHBOWL, SANDBOX, COINS, GREENROOM, CLASSROOM.
7.         All New Chief
Innovation Officer Panel: Insights from those who've reached the top of the
innovation field, including CIOs from Xerox, Dow Corning, and DSM.
8.         70 Real-World
Case Studies: Break-out speakers worthy of the mainstage:
'        
Karen Freidt, Lead, Navigation Center for Creativity,
Collaboration, & Innovation, NASA
'        
Gordon Jones, Director, Harvard Innovation Lab
'        
Barry Calpino, Vice President, Breakthrough Innovation, Kraft
'        
Bill Lunderman, Vice President, Global Strategic Brand Design,
Colgate-Palmolive
9.         Special
Alumni Curriculum: Been to FEI before? The 2012 event features special Q&A
time with keynotes, personal development sessions, and bonus activities just
for our past attendees.
10.        New Core Content
Areas: featuring sessions on Reverse Innovation, Storytelling as a Core
Competency, Design Integration at the Front End, Collaboration in the New
Social Space.
FEI
continually serves as the industry's catalyst for change by
masterfully facilitating the intersection of thinking and acting. Register now
to lock in the lowest rate possible.