OPT has announced the winners for the inaugural Offshore Pipeline Awards. These awards acknowledged those companies and professionals who have worked tirelessly to develop pioneering technologies, moved the offshore pipeline sector into more challenging environments, and are inspiring to others to drive the industry forward for future growth.
The winners were recognized during the OPT 40th Anniversary Dinner on March 1st at the Okura Hotel, Amsterdam.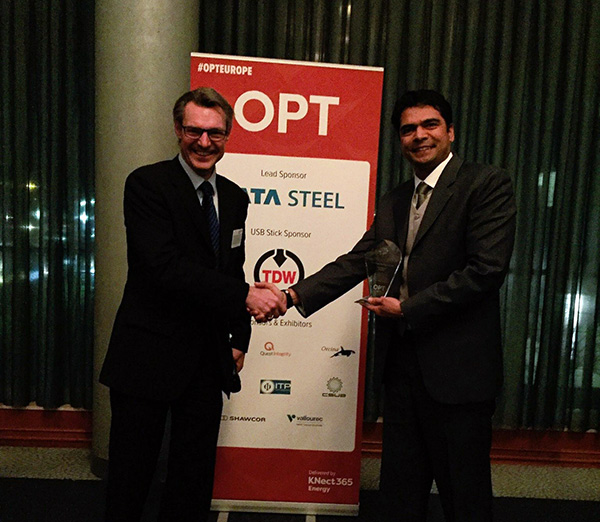 TECHNOLOGY INNOVATION AWARD WINNER: ShawCor for NEMO Hybrid Field Joint Coating
This Technology Innovation Award was awarded to ShawCor for their innovative NEMO Hybrid Field Joint Coating. The technology addresses material cracking during the reeling process, this solution underwent rigorous installation (using reel vessel) and subsea operation testing. This is a technically, operationally and commercially viable solution which fits in with existing footprint on the spoolbase without increasing cycle time of the process. It has been successfully deployed this year in Gulf of Mexico for a major operator.
Suresh Choudhary accepted the award on behalf of ShawCor and thanked the OPT advisory committee for the award.
"It is very encouraging for us to receive this recognition and will motivate us to work on more innovative technologies thereby enabling the oil and gas industry to be positioned well for recovery."
Suresh also attended OPT for the first time this year, and was impressed, feeding back the following to the conference organisers.
"This is my first time attending the OPT and I am very impressed with the quality of speakers, organizing committee and intellect of the attendees. It is indeed one of the best conference I have attended so far."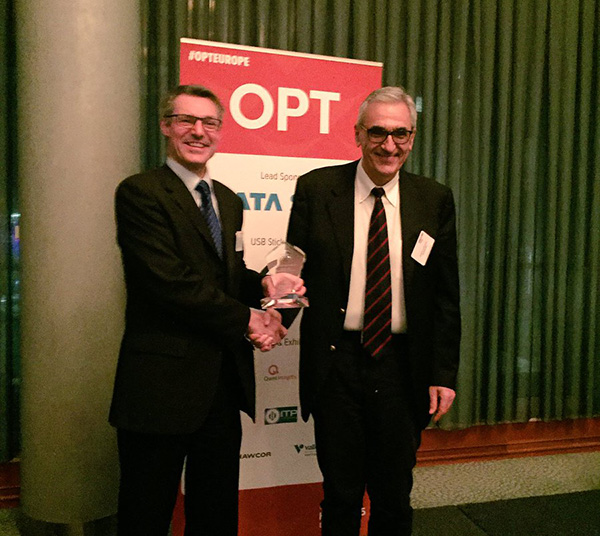 LIFE-TIME ACHIEVEMENT AWARD WINNER: Dr Roberto Bruschi, Saipem Ltd
The Life-time Achievement Award was presented to DR Roberto Bruschi from Saipem LTD. For more than three decades, Roberto has held many key positions in the industry, including leading advanced project studies, technical manager, project manager and project director in R&D projects and a number of complex cross country and subsea pipeline engineering and construction projects.
Dr Bruschi has contributed enormously to the industry and has been a regular speaker and attendee at OPT; and he thanked the OPT advisory committee for the recognition.
"The first time I attended OPT was in 1988, at Stavanger, presenting a paper on scour induced free spanning along Stat-pipe. It was difficult to imagine, thirty years after, to be here today and thank the OPT Committee for selecting me for the "Lifetime achievement Award".
For over 40 years, OPT has been bringing together the leading players in the global offshore pipeline industry to network, debate and share ideas.  2018 will be no exception with the 3-day event returning to the Okura Hotel in Amsterdam from 27th February to 1st March
Sue Woolley, Manager, for OPT would like to send the following message to everyone involved with this year's successful conference;
 "On behalf of the Organisers and Advisory Committee I would like to thank everyone involved in making the 40th anniversary event such as resounding success and we look forward to repeating this again in 2018.  See you all next year!"
Book your place now for OPT 2018 and take advantage of our super-early bird rates.