We received official word this week that "the United States Patent and Trademark Office (USPTO) is now seeking nominations for the 2012 Medal of Technology and Innovation (NMTI), the nation's highest honor for technological achievement, bestowed by the President of the United States on America's leading innovators."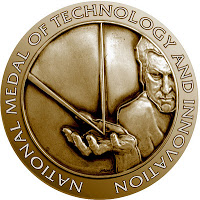 'We want to honor this nation's creative geniuses,' said Richard Maulsby, the USPTO's acting chief communication officer and NMTI program coordinator. 'This medal goes to innovators whose talent helps guarantee U.S. leadership in technology across the board.'
"The medal is awarded annually to individuals, teams (up to four individuals), companies or divisions of companies for their outstanding contributions to America's economic, environmental and social well-being. The purpose of the National Medal of Technology and Innovation is to recognize those who have made lasting contributions to America's competitiveness, standard of living, and quality of life through technological innovation, and to recognize those who have made substantial contributions to strengthening the nation's technological workforce.
 By highlighting the national importance of technological innovation, the medal is also meant to inspire future generations of Americans to prepare for and pursue technical careers to keep America at the forefront of global technology and economic leadership."
 A nomination form and detailed information about submission requirements can be downloaded here. All completed nominations must be submitted to the USPTO by 5:00 p.m. (ET), Mar. 31, 2012.
Good luck to all!