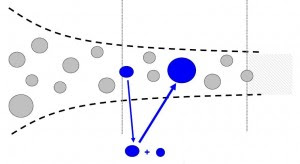 Until last June I was the Innovations Leader at Kodak European Research. Along with my colleagues, I developed the Open Innovation and Technology Intelligence strategy to help the centre achieve its mission of identifying excellent science and technology from across the European region for Kodak. I spent lots of time in Open Innovation (OI) communities discussing and sharing best practice and experiences with other multinationals who were also establishing and implementing OI strategies. Last June I moved up the road (30sec less commute!) to Cambridge Consultants where I was surprised that my previous impressions - of a big box of clever people working on difficult problems - didn't really capture how we work with our clients. In fact, my job move had just shifted me into a different part of the OI paradigm. Since arriving it's increasingly clear to me that we are an intermediary for OI. The staff here are used to describing ourselves interms of the application of technology for radical market benefit and how that adds value to our clients. But Chesborough's language for Open Innovation is different: OI talks of networks, intermediaries, and identifying where and from who you can find technology solutions and answers to technology questions. I've sat with many multinationals recently and I can see them struggling to see the questions we can help them address in an OI framework. In other words where do we fit in their OI strategy. Of course being called 'consultants' doesn't help our clients work out who we are and where we fit, as the vast majority of our work is design & development as opposed to management consultancy. But we are 50 now, and I'm not going to start the argument about brand names with Patrick (our Marketing Director). For what it's worth I don't think you mess with brand equity like ours unless you're desperate. So I've been thinking... We definitely don't need to change WHAT we do, we're good at it and it works, we just need to change the language in how we frame our value so that OI savvy companies can easily see how we fit as part of their strategy. So here's a try... Cambridge Consultants is an intermediary for OI. Here are some examples of questions we are asked to answer by clients as diverse as P&G, Coors, Unipath and Laurastar:
Can you find a technology solution that will deliver the radical market change I need?
Can you take my partial idea and make it a reality?
Can you take this from the lab to the warehouse?
Mark Harrison from our client Diageo and my colleague Eric Wilkinson will be talking about how unreasonable behaviour can be a driving force for this type of innovation as part of the keynote on Monday at FEI, so please come along. You can find out more about our innovation management work here and more discussion on open innovation on our blog.Ruth Thomson works on Authentication Systems and Consumer Products at Cambridge Consultants.